Description
Sponsor a child like Sophia now…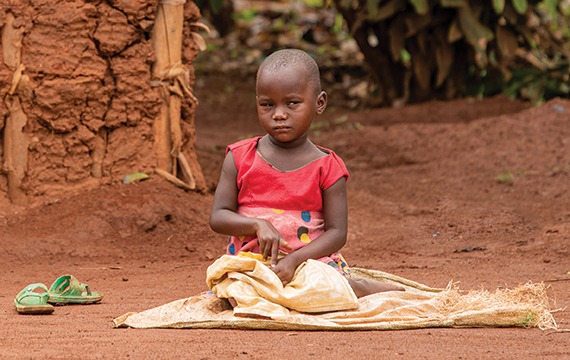 Sophia was born with congenital bilateral cataracts. She is the youngest in her family and much-loved by everyone.
Three-year-old Sophia is eager to learn and although she started attending kindergarten, sadly, her blindness made it difficult for her to continue.
Sophia suffers from social isolation and is becoming very lonely.
On the day the cbm-funded health care worker visited, Sophia was sitting by herself, listening to the children play without her.
Sitting on her mother's knee, humming the ABC song, her parents say she is an intelligent child. She is keen to learn English and to learn to count, and when other children are around the house, she listens intently to their conversation.
"We are very worried that if Sophia does not get treatment she will not be able to live a normal life like the other children", says her mother Joyce.
But there is hope for Sophia.
Thanks to generous people like you, Joyce and husband Mukoya don't need to worry so much about their daughter's future.
Through your regular gifts, everything can change. Sophia will be able to receive the miracle of sight-saving cataract surgery to restore her sight. Her family could never afford to do this, but your generosity make impossible dreams come true. Sophia will be able to make friends with other children, and go to school. And because of you, she will have a much brighter future.
This one child represents the many children you can help when you become a cbm child Sponsor. You will enjoy seeing the impact your generosity can have on the lives of children like Sophia.
Become a cbm Child Sponsor today and help more vulnerable children like Sophia overcome the double disadvantage of poverty and disability.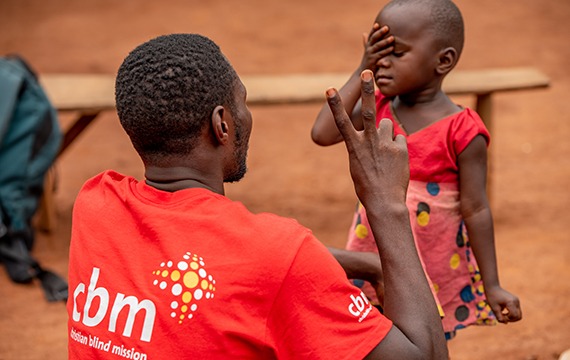 How it works
As a cbm Child Sponsor, your gifts are working in the poorest countries, where up to 80% of children with a disability will die without help before their 5th birthday.
Our cbm Child Sponsorship works in three ways:
1. Finding: Children with a disability are often hidden away in shame. Your generosity helps to find them and bring them hope..
2. Life-changing Support: Children with disabilities often need urgent medical care or intensive rehabilitation. Your generosity helps provide much needed treatments to transform their lives.
3. Continuing Care: Once a child's impairment is treated, we can't send them back home alone. Your generosity helps break down the traditional fear of disability, so children are welcomed back into their families, schools and communities.
What is unique about cbm's Child Sponsorship?
It focuses on children with a disability. You are helping children who can't see or walk or hear. Children that are often hidden away out of shame and superstition. Schools often turn away children with disabilities. Families slide further into poverty, because caring for children with disabilities leaves less time and energy to make a living.
Thanks to cbm Child Sponsors these children, rejected because of their disability, are welcomed into school and their community. You improve their lives forever.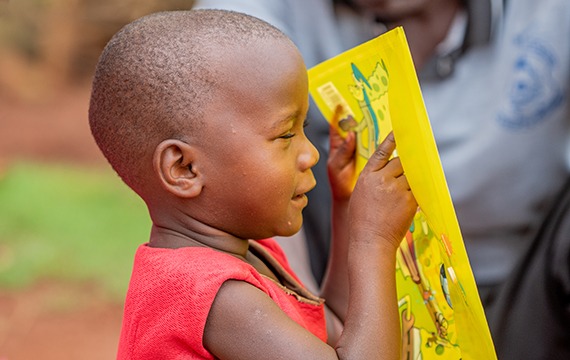 One featured child each year represents all the children being helped in the programme. We will take you on a journey with a representative child. This sponsorship is less complex and less expensive to administer; therefore more of your money is invested in improving children's lives.
What does your sponsorship cover?
Your sponsorship covers the cost of surgery and rehabilitation for one child. You are investing in sight-saving, leg-straightening, life-changing work. You help families and communities lift themselves out of poverty, by providing job training, business coaching and small loans.
You can take great joy in the wonderful things you can do for children like Sophia.
Your generosity as a cbm Child Sponsor reflects God's love by helping children with disabilities receive the vital support they need to live their lives and achieve their full potential. Thank you for caring.
Follow the lives of the representative children in cbm's Child Sponsorship Programme by clicking on the images below.