Description
Sponsor a Child Like Naresh Now
Naresh was born into extreme poverty, in a socially marginalised community, ranking lowest in the outlawed caste hierarchy. He is now 11-years-old, and lives with his mum and dad, and three of his six siblings. Naresh's life took a turn for the worst three years earlier, when a small accident at home eventually led to the amputation of his right leg!
One day when Naresh was 8-years-old, his mum Lali was milking the family cow. Naresh was happily playing with its calf, when suddenly he was kicked by the calf and fell. Apart from a few scratches at the time, Lali did not notice a small bump that appeared a few days later, on the lower part of his leg. Once she did see it, she became increasingly concerned when it didn't go away like the usual bumps and scratches her children had experienced growing up on the steep hillsides surrounding their home. Lali decided to take him to a nearby health post where she was given some medicine to help reduce it. But the lump continued to grow.
Concerned for their son's health Naresh's dad, Gante, took him first to a doctor in Nepal and then to a bigger hospital in India. Not only did this push the family into debt, but the doctors were unable to diagnose the problem, and in the meantime, the bump on Naresh's leg had grown even more, and was causing his whole leg to swell!
After begging for help from family and local villagers, Gante was able to take Naresh to yet another hospital, this time in Chitwan (a city in the southern lowland of Nepal). They did all the tests again and examinations, as well as minor surgery to test the bone. After the surgery they told Gante that the bone marrow had turned black, probably due to cancer! Sadly, this in turn, led to the amputation of Naresh's leg.
Naresh cannot walk or even stand unsupported.
Gante has done everything he can for Naresh. He even designed a homemade crutch for him to increase his independence, using a plastic pipe with a wooden stick inside it to make it sturdier.
He is far behind his peers with his education due to having to navigate the steep paths to get to the local school. His attendance is irregular, and when he does go to school he is in a class with much younger children.
But there is hope for Naresh.
Now, though, thanks to your generosity, you have brought hope into his life. cbm-funded field workers found Naresh in his village high up in the steep, perilous ravines that rise towards the world's highest mountains.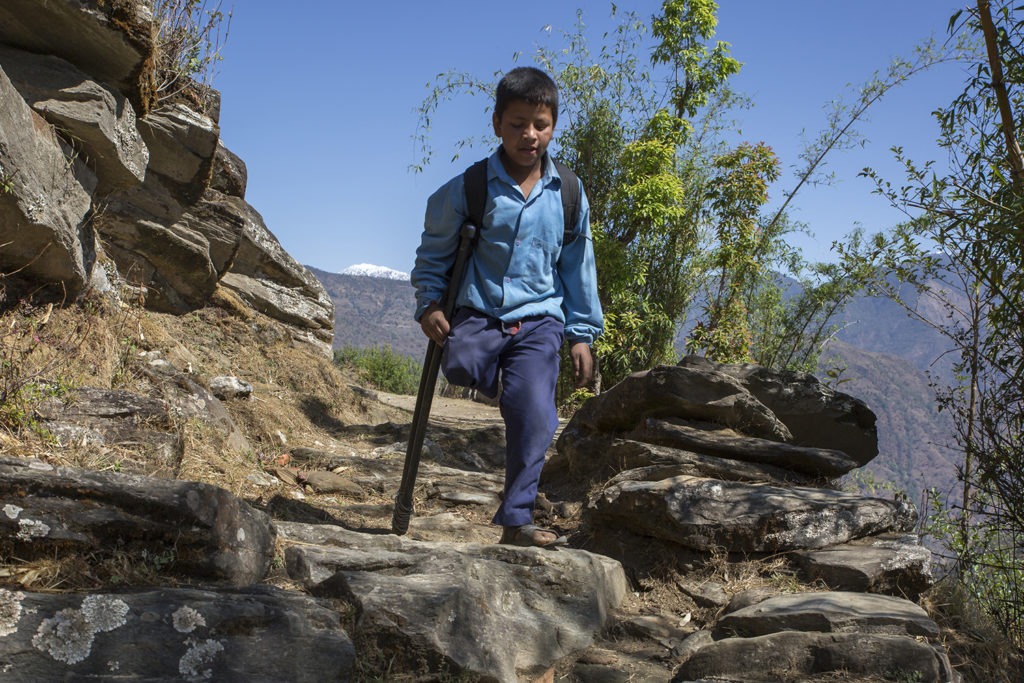 Through your regular gifts, everything can change. Naresh will receive a specially made prosthetic leg, followed by intensive physiotherapy, training and support. Such challenging medical care costs far more than Naresh's family could ever dream, but your generous sponsorship makes impossible dreams come true.
Thanks to generous people like you, Gante and Lali don't need to worry about their son's future. There is hope for Naresh. Through your regular gifts, Naresh will receive the dignity and joy of a life-changing prosthetic limb. His family could never afford to do this, but your generosity makes it possible. Naresh will be able to make friends with other children, and go to school. He will have a brighter future.
This one child represents the many children you can help when you become a cbm child Sponsor. You will enjoy seeing the impact your generosity can have on the lives of children like Naresh.
Become a cbm Child Sponsor today and help more vulnerable children like Naresh overcome the double disadvantage of poverty and disability.
How it works
As a cbm Child Sponsor, your gifts are working in the poorest countries, where up to 80% of children with a disability will die without help before their 5th birthday.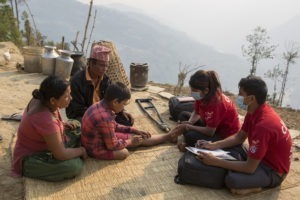 Our cbm Child Sponsorship works in three ways:
1. Finding: Children with a disability are often hidden away in dark corners. Your gifts help us to find them.
2. Life-saving Action: Children with disabilities often need urgent medical care or intensive rehabilitation. Your sponsorship provides urgently needed treatment that will save their lives.
3. Continuing Care: Once a child's impairment is treated, we can't send them back home alone. Your sponsorship helps break down the traditional fear of disability, so children are welcomed back into their families, schools and communities.
What is unique about cbm's Child Sponsorship?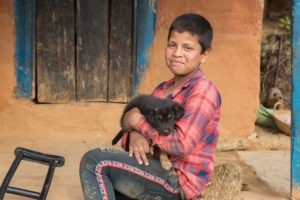 It focuses on children with a disability. You are helping children who can't see or walk or hear. Children that are often hidden away out of shame and superstition. Schools often turn away children with disabilities. Families slide further into poverty, because caring for children with disabilities leaves less time and energy to make a living.
Thanks to cbm Child Sponsors these children, rejected because of their disability, are welcomed into school and their community. You improve their lives forever.
One featured child each year represents all the children being helped in the programme. We will take you on a journey with a representative child. This sponsorship is less complex and less expensive to administer; therefore more of your money is invested in improving children's lives.
What does your sponsorship cover?
Your sponsorship covers the cost of surgery and rehabilitation for one child. You are investing in sight-saving, leg-straightening, life-changing work. You help families and communities lift themselves out of poverty, by providing job training, business coaching and small loans.
You can take great joy in the wonderful things you can do for children like Naresh.
Your generosity as a cbm Child Sponsor reflects God's love by helping children with disabilities receive the vital support they need to live their lives and achieve their full potential. Thank you for caring.
Follow the lives of the representative children in cbm's Child Sponsorship Programme by clicking on the images below.