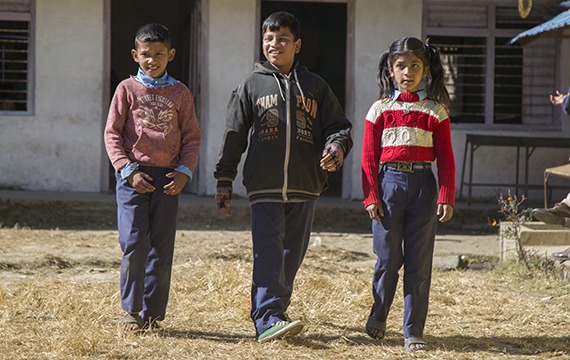 11-year-old Naresh was born into extreme poverty, in a socially marginalised community in Nepal, ranking lowest in the outlawed caste hierarchy. He lives with his mum and dad, and three of his six siblings on a steep Himalayan hillside.
Naresh's life took a turn for the worst three years earlier, when a small accident at home eventually led to the amputation of his right leg! Without a prosthetic limb, he found it difficult to navigate the steep, uneven paths to get to the local school, making his attendance irregular. And such challenging medical care costs far more than his family could ever dream.
Then everything changed. Thanks to generous monthly gifts from cbm Child Sponsors, Naresh was found, and received a life-changing prosthetic limb from the cbm-partnered Hospital and Rehabilitation Centre for Disabled Children (HRDC).
Naresh is no longer the sad young boy, sitting by himself, while children play around him. He can now walk unassisted, giving him the independence a child needs. But best of all, Naresh is able to play outside with his friends and is catching up to his peers in school.
This one child represents the many children you can help when you become a cbm child Sponsor. You will enjoy seeing the impact your generosity can have on the lives of children, like Naresh.
Become a cbm Child Sponsor today and help more vulnerable children, like Naresh, overcome the double disadvantage of poverty and disability.