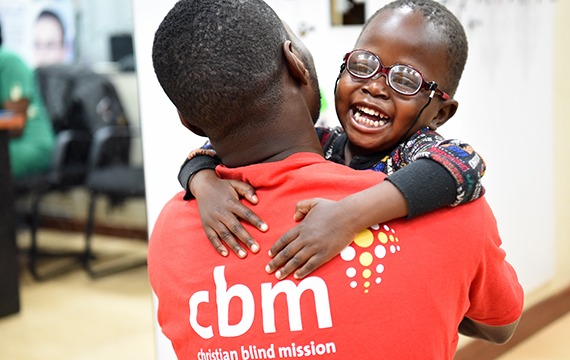 Abandoned at birth by her mother and father, 3-year-old Fatuma was left in the care of Gertrude, her maternal grandmother. She is much loved and cherished but sadly, every day has been a struggle…
Fatuma suffered from bilateral cataracts and was diagnosed at a Mengo Eye Hospital Outreach Clinic. She could barely move around. She couldn't play with the other children and sometimes suffered abuse from them. She was unable to defend herself from their taunts… she simply sat there and cried.
Then everything changed. Thanks to generous monthly gifts from cbm Child Sponsors, Fatuma was found, and received professional cataract surgery to restore her sight. Her grandmother could never have afforded this, but your generosity made it possible. She will now be able to make friends with other children and go to school. She will have a brighter future.
Watch this moving testimony of the enormous impact you can have, when you help a child like Fatuma to overcome the double disadvantage of poverty and disability.
This one child represents the many children you can help when you become a cbm child Sponsor. You will enjoy seeing the impact your generosity can have on the lives of children like Fatuma.
Become a cbm Child Sponsor today and help more vulnerable children like Fatuma overcome the double disadvantage of poverty and disability.