Child Sponsorship – Meet Naresh
11-year-old Naresh from Nepal lost his leg after a small accident at home, which eventually led to the amputation of his right leg!
cbm Child Sponsors, helped Naresh receive a life-changing prosthetic limb from the cbm-partnered Hospital and Rehabilitation Centre for Disabled Children (HRDC). Naresh can now walk unassisted, giving him the independence a child needs. But best of all, Naresh is able to play outside with his friends and is catching up to his peers in school.
Watch this moving testimony of the enormous impact you can have, when you help a child like Naresh.
Child Sponsorship – Meet Dinesh
On the towering hillsides of Nepal, Dinesh was born with one leg completely missing. No thigh or stump for attaching a prosthetic leg.
7-year-old Dinesh's future was as dark as his doorway, where he sat grieving his mother's death, while watching other children playing games and going to school.
Then everything changed. Thanks to generous monthly gifts from cbm Child Sponsors, Dinesh was found, and almost a full year of painstaking treatment began – now condensed for you into less than five minutes of film.
Child Sponsorship – Meet Fatuma
3-year-old Fatuma from Uganda urgently needed sight-saving cataracts surgery.
Thanks to generous monthly gifts from cbm Child Sponsors, Fatuma was found, and received professional cataract surgery to restore her sight. Her grandmother could never have afforded this, but the generosity of people like you made it possible. She will now be able to make friends with other children and go to school. She will have a brighter future.
Watch this moving testimony of the enormous impact you can have, when you help a child like Fatuma.
Cataracts – CBM Ambassadors Lucy & Danielle
Travelling to the cbm-funded Biratnagar Eye Hospital in Nepal, Lucy & Danielle witnessed a young boy receive sight-saving cataract surgery.
"This little boy's life is about to change forever. And not only that, the generations to come after him. He gets to now be educated, therefore his children can be educated. This is how we start to shift poverty." says Lucy.
"It's emotional because I've heard so many people say that poverty is too big, we can't do anything. But we can…" says Danielle.
Cataracts – Meet Dam
Blinded by cataracts in the Highlands of Papua New Guinea, 60+-year-old Dam prayed to have her sight restored.
Thanks to generous people like you, she was found by cbm-funded field workers, who helped her along her arduous journey to reach the Eye Hospital in Goroka, to receive sight-saving cataract surgery.
Witness Dam's joy and emotions once her bandages are removed, and she can once again see!
Cataracts – Meet Paul
Paul, from Zimbabwe, was such a hardworking and devoted man, but cataracts cast a blinding mist over his life.
He was reduced to depending on his wife for everything, and he felt he would never look upon the faces of his beloved family again.
Thanks to generous people like you, Paul found out about the cbm-funded eye unit where he received sight-saving cataract surgery, giving him back his independence.
Obstetric Fistula – Meet Victoria
Nigeria is challenged with some of the world's worst health conditions for mothers and newborns.
For lack of maternal healthcare, more than 13,000 women a year find themselves uncontrollably leaking bodily waste, and living with the life-long smell, shame and isolation of obstetric fistula.
Victoria from the cbm-funded Survive Fistula Health Foundation (SFHF) tells how they are working together to end Obstetric Fistula, by providing life-restoring obstetric fistula surgery, hospital care and medicine for mothers to heal and regain their respect and standing. 
Rohingya Refugees in Bangladesh:
Disability Rehabilitation – Meet Yasin
10-year-old Yasin is deaf, but that is not the reason he cannot bring himself to talk. His voice has been stilled by the trauma of unspeakable terror and violence that saw a million people flee Myanmar, desperate for a safe haven.
As a toddler, Yasin witnessed terrible crimes against his loved ones. He has never spoken of it. Or anything else.
Generous people like you are teaching this shattered boy how to be a child again, in the Child Friendly Space located beside the cbm-funded Medical Centre in the heart of Refugee Camp 18. Yasin needs this oasis. He goes there every day to have his fear-broken heart healed just a little bit more. We hope one day this silent young witness will speak again.
Neglected Tropical Diseases:
River Blindness – Meet Mairige
In Nigeria, River Blindness left Mairige completely dependent on her great-niece, Wajir, who is a beautiful 10-year-old girl with the sweetest heart.
When Mairige lost her sight, she lost her livelihood – and her husband, who told her to leave because she could not work. Her family took her in. They live in deepest poverty, with no running water or power. They cannot afford school books or fees, so Wajir spends her days leading Mairige around with a stick.
Watch as Waijir lovingly cares for her Grandy Mairige.
River Blindness – Meet Masu
Masu is an amazing man. No wonder his children want to be just like him. Except for the River Blindness parasites that completely destroyed his eyes… and his dreams.
Despite all he has lost, Masu has built a life for himself, finding a lovely wife and having beautiful children together, then starting a group for people like him living with avoidable blindness, called the Association for Blind People. There are many in his village also needlessly blind.
Masu is a courageous man, but he does fear for his children.
Faith, Church & Disability:
Maja Whitaker: Living out of our design
Maja Whitaker is a pastor and disability theologian, having done doctoral research into what the resurrection body might be like for a person with a disability. She shares how she came to understand the beautiful ministry of shared humanity and genuine friendship with those who are different from her and unpacks from the Bible what it means to be made perfect.
Evan Clulee: Doing life together
Evan Clulee lives in Rangiora with his wife, May, and his dog. He's been involved in global development work with disabled people, including in the Philippines, having his own lived experience of spina bifida. How can we imitate Jesus by creating genuine community and giving people the freedom to participate fully in society?
Charles Hewlett: Holding discomfort
Charles Hewlett is the Baptist National Leader and is married to Joanne. He shares their experience of parenting two wonderful and profoundly disabled children, highlighting the value of suffering and the depth of disabled people's ministry to us. How might we genuinely embrace this in our faith communities?
Karen Plimmer: Taking the relationship step
Karen Plimmer works full-time in the disability sector and is mum to a beautiful four-year-old girl. She shares her experience of motherhood, church, and the workplace as someone born blind. We hear about the unhelpful responses to her disability and the more relational steps we can take to create belonging.
Olivia Shivas: Do disabled people belong in your church?
Olivia Shivas is a journalist passionate about telling stories of disabled people. Olivia was born with a disability called muscular dystrophy, hence being a pro wheelchair user. She shares the challenges and insights of her disability and people's responses, helping us recognise attitudinal and physical barriers within the church and wider society.
Faith, Church & Disability Introduction
Christian Blind Mission, in partnership with Baptist NZ, introduces a new podcast exploring the experience of disability and Christian faith.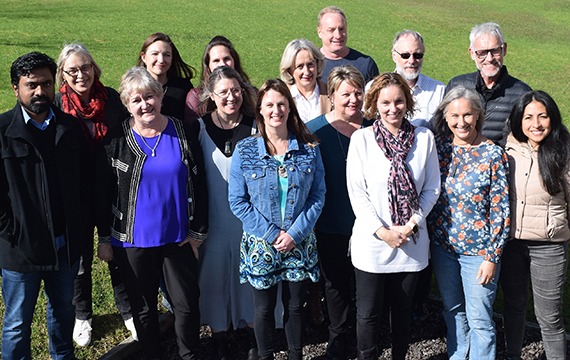 Our team would love to hear from you