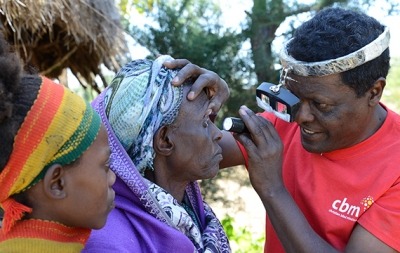 While acknowledging World Humanitarian Day for the 11th year, we pay special tribute to the real-life heroes who have committed their lives to helping others in the most extreme circumstances around the world.
This year World Humanitarian Day comes as the world continues to fight the COVID-19 pandemic. Humanitarian workers are overcoming unprecedented access hurdles to assist people in humanitarian crisis in many countries. #RealLifeHeroes focuses on what drives humanitarians to continue to save and protect lives despite conflict, insecurity, lack of access and risks linked to COVID-19.
Humanitarians like Gizachew Abebe, an ophthalmic nurse and field worker from cbm partner GTM Grarbet Tehadiso Mdahber in Butajira, Ethiopia.
"Trachoma is very prevalent here. It's a disease of children, mothers and grandmothers and people don't know much about it. Once a grandmother has active trachoma, she can easily transmit the disease through her hand or cloth to the grandchildren and they pass it on or back to her and so on. Everyone is at high risk, that's why we implement the SAFE strategy with support of cbm. We provide Surgery and Antibiotic distribution but also education about Facial cleanliness, hygiene and we help improve the Environment and sanitation. (SAFE = Surgery, Antibiotics, Facial cleanliness, Environment). In order to prevent and kill the bacteria, we go from home to home and examine all members in the community, supply oral doses annually of Zithromax (antibiotic pills) to everyone through a mass drug distribution. And those with active trachoma we give Tetracycline, an ointment and broad-spectrum antibiotic, which treats the active infection", explains Gizachew.
As he looks into grandmother, Asgedech's eyes (above) he says that she will need a small surgery in one of the local cbm-partnered clinics not far from here as she has Trachoma Trichiasis (TT). We will reverse her eyelids, turning them outward, so when the lashes grow back they will no longer be able to scratch her eyeball causing pain and threatening to make her go blind. We will not be able to reverse the scars on her cornea and opacity caused by trachoma over the years. But we can stop making it worse. And the pain and the tearing will be stopped, so more comfort again", explains Gizachew.