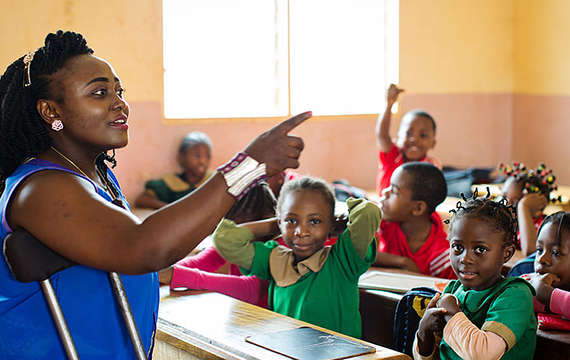 On International Women's Day 2020, cbm calls for equal opportunities for girls and women with disabilities, like 30-year old Rita from Cameroon.
Every time Rita stands in front of a class, she begins with her own story: "Once upon a time there was a girl who was sick and should have been left in the forest." She gestures energetically, supported by her crutches. As a child, Rita was affected by polio. Many in her village thought this was witchcraft. Doctors and neighbours advised her parents to get rid of the little one, a common practice at the time, but the parents paid no heed to their advice.
Disability is still a curse in some African countries. Rita has repeatedly experienced this herself. At school, many parents warned their children not to sit next to Rita for fear of her disability spreading to the other pupils. She was often teased and her school was difficult to access with her crutches. But Rita's parents always supported her education. With a lot of willpower, she went on to study politics and communications and has three university degrees.
Fighting for the rights of children with disabilities
Today, Rita Agum works for Promhandicam, cbm's partner in Cameroon which works to better the lives of people with disabilities. Rita ensures that children with disabilities are integrated into all areas of life. Rita advocates passionately in schools as well, because exclusion begins at childhood and within schools. Girls with disabilities are often discriminated against on several occasions, especially in developing countries.
"In Cameroon, girls play a very traditional role in the household and in the family. They are much less likely to be educated or able to read and write. If they also have a disability, their educational opportunities are almost non-existent."
cbm and their partners are committed to promoting the interests of children with disabilities at an early stage, supporting their education in inclusive schools and providing them with adequate education and training. This allows them later to pursue a livelihood and fulfill their potential.
Rita is a proud role model for other girls like nine-year-old Estelle, who is affected by severe visual impairment and attends an inclusive school in Cameroon's capital Yaoundé. Estelle still finds it difficult to learn the alphabet in Braille. Rita visits her regularly at school, encouraging her and making sure that she is supported in the best possible way. She has been fighting hard for the rights of children with disabilities and, thanks to her advocacy work, 26 schools in Yaoundé have now become inclusive, starting to accommodate children with disabilities.