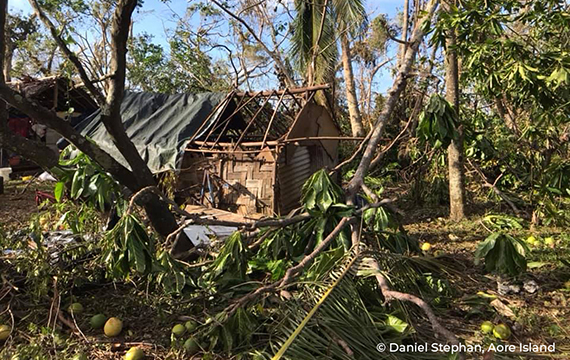 Our Pacific neighbours in the Solomon Islands, Vanuatu, Fiji and Tonga are facing a double emergency – the destruction of Category 5 tropical cyclone Harold and the spread of COVID-19.
Tropical cyclone Harold has been moving through the Pacific delivering heavy rain and 185-205km/hr winds, causing widespread damage to houses and infrastructure across the affected islands.
In Vanuatu, aerial assessments have reported damage to roads, hospitals, schools, homes and churches across the northern and central islands of Maewo, Pentecost, Ambae and rural Santo. Early reports from Luganville indicate that there has been significant damage to infrastructure, that up to 70 per cent of buildings have sustained damage. In Sanma Province, it is estimated that between 80-90 per cent of the population have lost their homes, and approximately 60 per cent of schools and 20 per cent of health centres are likely to have been damaged.
Other reports are coming in say hundreds of thousands of people are now affected across the Pacific. Those with disabilities are particularly vulnerable.
Right now, just having enough food is of particular concern with many of the staple crops that supply the Pacific destroyed.
Water supplies have become contaminated and there is an increased risk of water-borne disease.
Fears are growing that people with disabilities are severely affected and may have missed out on early warnings about the cyclone.
Now, more than ever, people with disabilities are at risk of separation from their family care networks, and the assistive devices that give them independence.
As well as all this, the destruction of people's homes means evacuation centres are becoming overcrowded and yet affected people may have to stay there for an extended period.
If an evacuation shelter does not have accessible toilet and hygiene facilities, people with disabilities are clearly disadvantaged. If they do not receive information in a way that they can understand it or if distribution points are not accessible, they can miss out on having their basic needs met. Older people and people with disabilities are at greater risk of contracting COVID-19 and developing a severe case that is life threatening.
Current travel bans are in place, but thankfully due to past support from generous cbm supporters, cbm has developed existing relationships with the Pacific Disability Forum, and local organisations throughout the Pacific.
As a result, cbm is able to act swiftly to resource local organisations in these trying times, whilst following government protocols to ensure that any supplies and support does not inadvertently introduce COVID-19.
To act on this, cbm needs your support.
Together, we can act now. We can act early to help people with disabilities access immediate relief, while observing social distancing policies to reduce the spread of COVID-19!
With your support, we can make a difference and help ensure the protection and safety of people with disabilities, so no one is left behind or excluded in the emergency response.
By responding early your vital support will:
provide equal access to food and basic needs for those with disabilities
teach people with disabilities how to reduce the risk of contracting COVID-19 and how to access support and services in the wake of destruction
ensure people with disabilities are heard and included as an active part of the response
help train emergency response personnel with knowledge and skills to deliver services to children and people with disabilities
promote accessibility to community services, food distribution, health centres, and water and hygiene facilities
help continue local home-based services and provision of replacement assistive devices
help link people with disabilities to income recovery programmes so they can bounce-back faster.
Please send your urgent gift today to help protect vulnerable people in neighbouring Pacific countries from the devastating effects of tropical cyclone Harold and from the spread of COVID-19.