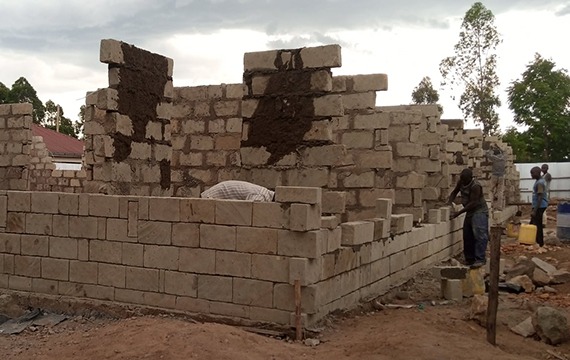 Transforming lives at the Kingdom Faith Based Hospital (KFBH) in Bungoma County, Western Kenya.
While the KFBH has been providing general health services under one building, support from cbm New Zealand enabled an eye unit to partially open in late 2020.
Throughout 2021 cbm has continued to support KFBH in the following areas:
Procurement of equipment and salaries for eye health professionals of the eye unit, including an optometrist, ophthalmic clinicians and an eye care nurse. For quality of services, training for specialist staff, and improved administration for service delivery. KFBH now has a reliable system to record patient information. Records show that patient numbers have been increasing.
Additional essential equipment for the eye unit has been purchased including a Phoroptor – used to test individual lenses on each eye during an exam. With a good stock of quality frames and lenses available, patients can now expect to receive their new glasses in around 30 mins following an appointment. By April over 300 spectacles were prescribed and distributed – and demand continues.
Since the laying of foundations of the 54 bed Medical Ward in 2020, construction has been progressing steadily. Once finished the ward will provide much needed accommodation for patients before and after eye surgery. A big THANK YOU to those of you who are supporting this work.
Regular medical outreaches connect with a number of county Hospitals in hard-to-reach places (using a van provided by a KFBH supporter). These outreaches provide adults and children with eye screening exams, eye drop medication, filtering cataract and minor surgical operations and prescription glasses.
"For every house is built by someone, but God is the builder of everything." – Hebrews 3:4
Joel's Story
Joel is happiest when working on his farm and caring for his crops, but when his eyesight started to get hazy he could not continue to do any kind of work by himself. He needed help to even go to the bathroom. Eventually his wife had to stop working to look after Joel full time.
Fortunately, Joel was able to come to the eye unit for a diagnosis, which confirmed cataracts in both eyes. Starting with the first eye, the ophthalmologist was able to remove the blinding cataract and replace it with a new lens, then protect the rapidly healing eye with a comfortable patch. The next day once the patch was removed Joel could see again! Not dimly or through a haze. But clearly! He and his wife were so happy – thanking the eye unit and staff for the service they received.
Three weeks later Joel returned and the surgical team removed the cataract from the other eye. During our follow up a month later we were met by a very happy family. Joel was again working on his farm and his wife had returned to work. We are so grateful to God and your support for the good work we are doing at this hospital.