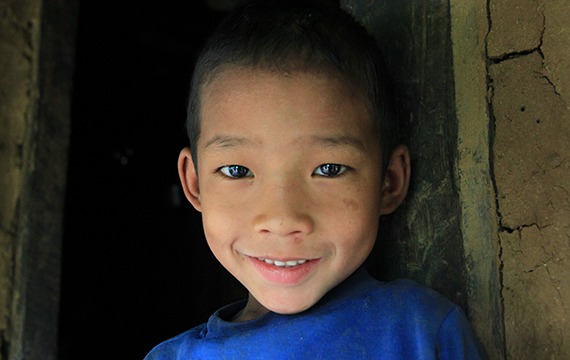 Such a beautiful face, such a warm and happy nature, but hidden behind his smile, his little ankles are bent and twisted. Every step is agony!
Please send a generous gift today to help children, like Ramsaran, climb their way out of poverty and disability.

"How beautiful on the mountains are the feet of those who bring good news." – Isaiah 52:7
Five-year-old Ramsaran barely leaves the family hut due to his severe clubfoot. He is unable to go to school, as his ankles are bent inwards and he cannot walk like other children.
His mother, Bishnu Maya, says "All he does is stay at home all day, playing with mud and stones. He cries a lot when his older siblings leave for school."
Ramsaran's family are so poor they cannot afford a bus trip to hospital, let alone the cost of three months of clubfoot treatment and surgery.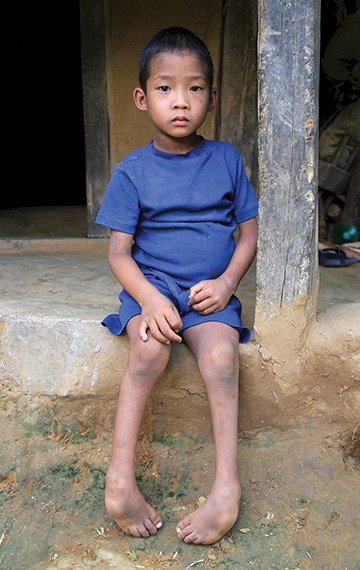 In fact, Ramsaran and his family live in extreme poverty. The poorest of the poor. In Nepal half the people live under the poverty line… and right at the bottom is Ramsaran's tribe, living on the steepest slopes with the worst land and barely enough to survive. Within that tribe, the most disadvantaged people of all are those with disabilities like Ramsaran.
"I wish his legs were straight," mourned his mother Bishnu Maya. "I wish he could stand and walk like other children. But what can we do? We are living hand to mouth."
One day, thanks to people like you, incredibly good news came to their steep mountainside. For Ramsaran's parents, it seemed like a miracle.
Today keep bringing good news to help children, like Ramsaran, climb out of poverty and disability.
Please send a transformational gift to help find these hidden children. Help bind their twisted ankles and slowly reshape their feet, so they can stand and walk without pain. So they can walk to school. So they can build a better life.
"I want to run and play. I want to go to school." For all of his five years, Ramsaran has been unable to stand on his own. He's had to crawl on all fours.
"The stones hurt his knees and hands," his mother said sadly. "His siblings are his only friends."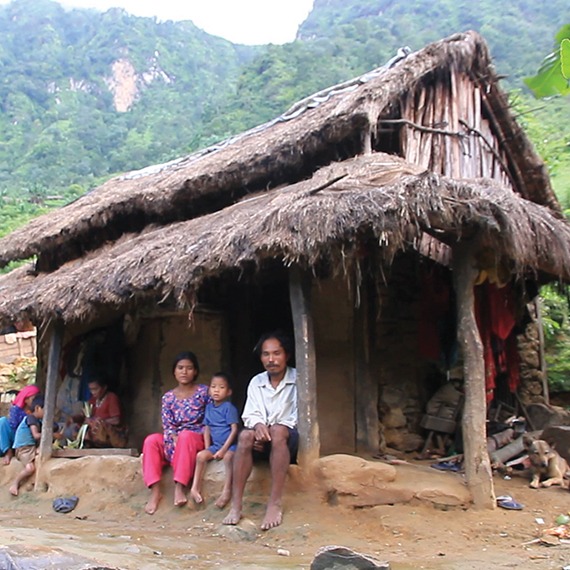 His father Krishna Bahadur earns a meagre income labouring far from home. He has a simple, pure dream. "I want to see him walk to school." He knows school is the only route out of extreme poverty.
But school is an hour's walk away! So Ramsaran just sits in the dust, unable to even wriggle uphill to the rough clearing where his parents grow barely enough rice and maize to live on.
They have no money, no furniture in their mud hut… and no real hope of help for Ramsaran. That was until the day a young woman climbed up their mountainside to find Ramsaran.
Sumitra is a cbm field worker supported by people like you! "Climbing up to Ramsaran's hut was one of my toughest days," she said, "but the two-hour climb was worth it."
Sumitra searches for children like Ramsaran out of sheer gratitude. She, too, was born with clubfoot. Her life was radically transformed because of support like yours. She can now climb any mountain, on beautifully restored feet.
Ramsaran's penniless parents could scarcely believe the good news Sumitra brought them.
"We will cover all costs for transport and treatment! Ramsaran will be walking to school in three or four months!"
What a blessing people like you are to this family! Dad beams, "It is like God has sent you. Thank you so much."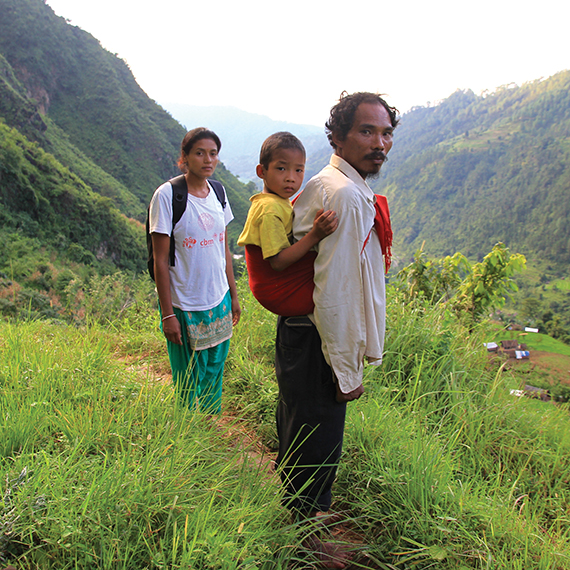 They set out straight away. Ramsaran climbs into a traditional cloth sling and his father carries him, following Sumitra down the slippery and treacherous path. They have to cross the river before dark.
The next day they arrive at the wonderful hospital people like you support in Kathmandu: Hospital and Rehabilitation Centre for Disabled Children (HRDC). Our CEO, Murray Sheard, visited this hospital in 2020 and personally witnessed the transformation of children like Ramsaran.
Ramsaran is feeling anxious because it's the first time he has ventured away from his remote, mountainside hut. His dad is amazed to see crowds of children with disabilities just like Ramsaran's. Clubfoot is the most common condition HRDC treats – seeing about 50 children a day. Despite their anxiety and amazement, they know they're in the right place.
Thankfully, Sumitra found Ramsaran just as his ankles were beginning to firm up. Any further wait would require major surgery.
Instead, thanks to generous people like you, sweet little Ramsaran is going to receive the gold standard of early-childhood clubfoot care: the Ponseti Technique. This means a new cast each week to slowly reshape his ankles – followed by a small operation called "heel cord release" so his feet can sit level.
The tightening shock of the first cast makes Ramsaran squeal just once, but soon Ramsaran has the thrill of going to class for the first time in his life, at the hospital school. Drawing pictures, animals, even the alphabet.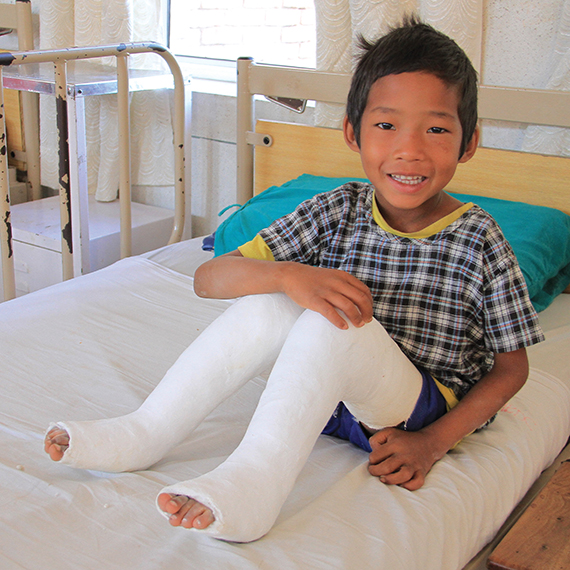 As Ramsaran's feet slowly untwist, Dad sees big changes in his son. "He was very shy and quiet. Now he has friends!"
When the last cast is removed, after the heel cord surgery, Dad can't contain his joy. "Your feet are so straight! It's amazing! This is like a dream come true."
Ramsaran is so happy with his wonderful straight feet. His climb is not over yet, though. He needs your help with one more thing: orthotic shoes, tough enough for mountain paths, made especially for him at your hospital.
He will be wearing your shoes every day as he grows into his new life. Walking to school. Helping with the chores. Playing with friends. Growing into a fine, healthy, well-schooled and sure-footed young man, with a deeply grateful heart for all the help you have given him.
"I'm very happy," Ramsaran says – and his Dad wants you to know, "I'll always be grateful to people like you for supporting Ramsaran in this journey. Thank you for transforming my son's life."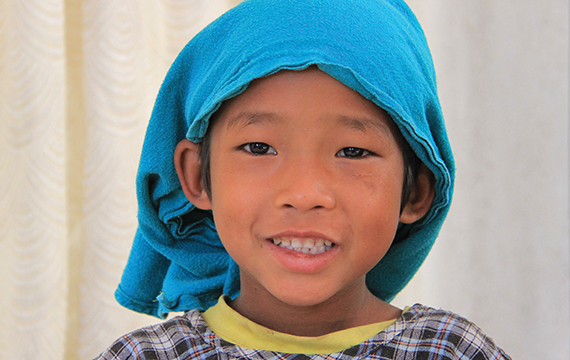 Now other children, like Ramsaran, need your help to climb their way out of poverty and disability. Please prayerfully consider sending a wonderful gift today to help fund cbm field workers like Sumitra, to find children through outreaches and mobile clinics. This will also help pay for Ponseti casting, and vital surgery to give children life-long freedom and movement, as well as help provide life-changing orthopaedic devices, like Ramsaran's shoes, plus crutches, leg braces and walking frames.
Murray has seen the faces of these children, and he wishes you could see how excited Ramsaran is every morning, as he heads to school on feet made strong and straight by your kindness. Please help bring good news to families in Nepal, whose children cannot climb their life's steep mountain without your help.
Children, like Ramsaran, face a doubly steep climb in life. Their severe poverty is made even worse by disabilities like bilateral clubfoot. But thanks to generous people like you Ramsaran's young life has been transformed. Please will you prayerfully consider sending a gift for children and families, who cannot afford treatment themselves. Your gift today will help pay for treatment, surgery and shoes, so children can climb far beyond clubfoot and have a brighter future. Thank you for your loving kindness.