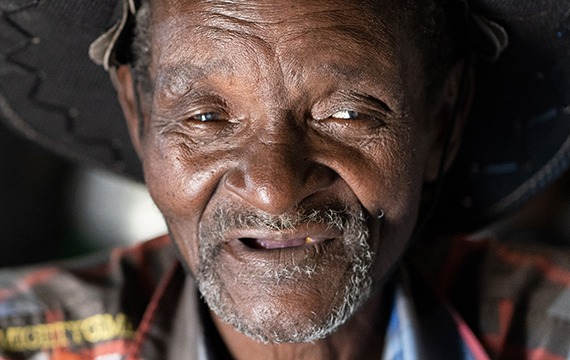 In the world's poorest places, please help set people, like Paul, free from the blinding mist of cataracts.
Please send your gift to give the Miracle of Sight.
"He is the one you praise; He is your God, who performed for you those great and awesome wonders you saw with your own eyes." – Deuteronomy 10:21
Paul, from Zimbabwe, is such a kind and caring husband and grandfather. And what a hardworking man! Even in his great poverty, he spent every spare moment building a house for his family, out of handmade bricks.
Before he could finish, though, his eyes clouded over with the blinding mist of cataracts.
This happy and independent farmer entered his 70's completely dependent on his wife, Jane.
He was unable to perform his daily chores or tend to his cattle. No more whittling cooking utensils for sale at the market. His blindness was so extreme, he could not even go to the toilet alone. Humiliated, his self-esteem crumbled.
Through the Miracle of Sight, every $35 can remove the mist of cataracts for a precious person like Paul. Please will you prayerfully consider sending a gift to help fund cataract surgery today.
"I started having problems with my eyesight in 2012," Paul explained. "I had to ignore it. It was just one eye."
Slowly, his world became misty, until he could no longer recognise his loved ones.
"I realised that my eye was blind and my second eye was starting to weaken as well. I felt overwhelmed but I had to carry on."
Paul kept working as hard as he possibly could, until he became completely blind.
"I can't even protect myself from getting hurt. I can't see any detail. All I see is light." Under the equatorial sun, this featureless glare is a searing pain. "All I can do is sit inside the house."
Paul felt heavy guilt for being unable to work, but his greatest heartbreak was being unable to look at Jane – or enjoy the pretty little face of his granddaughter, who was just a baby when he completely lost his sight.
He felt sad that Jane had no choice but to shoulder all the work – at home and in the field. And Jane feared leaving Paul alone, knowing he could easily be injured.
The day came when a neighbour ran to Jane, in the field, with terrible news. Paul had fallen and was badly hurt.
She realised something urgently needed to be done. Thankfully, through a family member, Paul and Jane found out about the cbm-funded eye unit where he could receive sight-saving cataract surgery, thanks to generous cbm supporters like you.
They were amazed that someone like you – a friend Paul had never met – was gifting the cost of his treatment.
Thankfully, they no longer had to make the hard choice of having to sell their main asset – their cow, the source of their milk and a lot of their income – to pay for the bus fare and surgery.
It's heartbreaking that avoidable blindness puts such pressure on families like Paul's. So please, if you can, send your gift today, so that people in the world's poorest places can receive the Miracle of Sight through sight-saving surgery.
Paul's son Chakanetsa came home from working in the mine so he could help his father make the seven-hour trip in search of a miracle.
"To get to the hospital on time, we had to leave our house at 2am. My father and I had to walk for hours to the pick up point for the shuttle bus."
After a long and tiring journey, Paul and Chakanetsa arrived at the eye unit where Paul was diagnosed with bilateral cataracts. The lenses in both his eyes were blocked by blinding clouds.
After being examined by Dr Ute Dibb, the cbm-funded Ophthalmologist, hope flooded his heart – but of course, even for a man of strong faith, there is always some doubt.
When Paul doubted whether he could ever really see again, the faith of his son reassured him. Chakanetsa said, "I am content, knowing God will lead us through this. He is the keeper of all beings."
He is indeed. We give glory to God and great thanks to people like you, because Paul was able to join 23 other patients in being set free from blindness that day.
Dr Ute Dibb delicately removed the blinding cloudy lens from Paul's right eye, replacing it with a completely clear new artificial lens.
Resting in recovery, with a bandage over his eye, a huge smile spread across Paul's beaming face. His doctor said, "Paul's surgery went well. He was very calm and quiet. That's always helpful for the surgeon."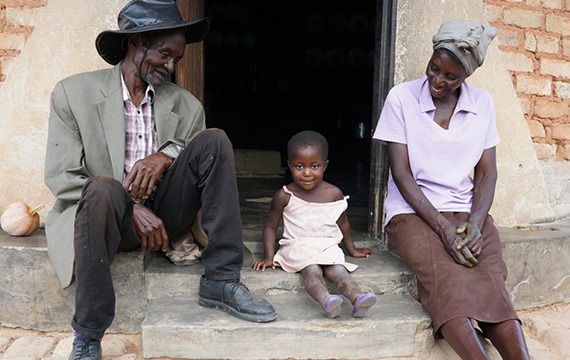 The next day, all of Paul's hopes for a miracle came true. When the bandage came off, five joyful words rang out: "I can see my son!"
His nursing sister says, "Paul is very happy. He's going to pray for us all, the whole team at the eye unit."
What joy your gifts bring! Paul was so excited to come home and really see his family. "The mist has all gone," he exclaimed. "The darkness has gone. I don't see the blinding light anymore. I don't have to worry about bumping into things. It all feels new!"
Paul's greatest joy was to look upon his beloved wife, Jane, again. She had lovingly supported him through his miserable season of blindness… and now he was so happy to take back his independence and his ability to provide for his family.
And there was their granddaughter – a baby no more! Paul couldn't stop staring at her in wonder. "I had her in my memory, but she looks so different now." That is bittersweet, because of how much he has missed of her life, but his sense of loss faded away like a mist, because of the happiness of seeing her again.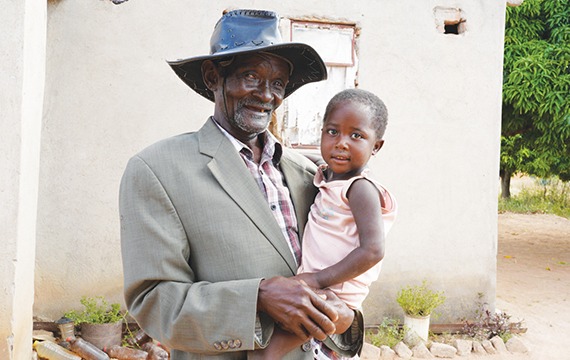 There are still so many adults and children whose futures are bleak because they are living with avoidable blindness. Please send a generous gift to give more people, like Paul, the Miracle of Sight.
Your gift will help fund the cost of cataract surgery for adults, like Paul, so they can return to productive lives. It will also help fund the extra costs of cataract surgery for children, including general anaesthetic, so they can have hope for the future. Or it could help fund other essential eye health services, including glasses for people whose sight has been damaged by years of cataracts.
What a beautiful and affordable way to restore sight, life and hope to people in the world's poorest places. Please bless people, like Paul, and their loved ones, by sending your generous gift for cataract surgery as soon as you can.
Paul was such a hardworking and devoted man, but cataracts cast a blinding mist over his life. He was reduced to depending on his wife for everything, and without sight-saving cataract surgery he would never look upon the faces of his beloved family again. Please help remove the mist and fill the lives of people like Paul with light, by sending your kind and gracious gift today. Thank you.