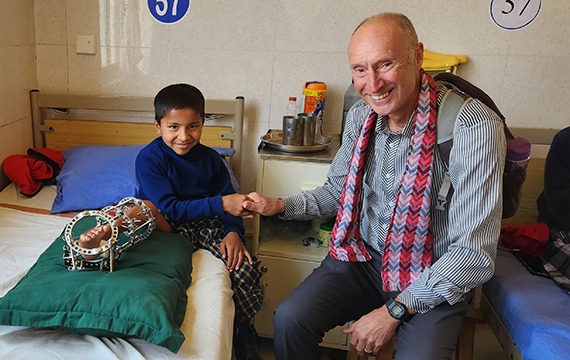 cbm's Board chair, Andrew Smith, and his wife Inez, recently travelled to Nepal, where they completed a five day trek in the Himalayas.
Whilst there, Andrew and Inez took the opportunity to visit the cbm-funded Hospital and Rehabilitation Centre for Disabled Children (HRDC) in Kathmandu, generously funded by cbm supporters like you.
On arrival, they were greeted by a small delegation of staff, and three young patients on their bamboo frame walkers. They were given a tour of the hospital, and they said a real highlight was meeting the children and their caregivers.
Club foot is the most common disability the hospital treats, but there is a wide range of significant disabilities. Andrew's surgical background made the visit particularly interesting, and he found the prosthetic department very well equipped, and the production of the prostheses was at a very high standard. He was impressed with the standard of care given to children with disabilities and also with the team of highly trained and experienced surgeons and support staff, who worked with some very complex cases.
Dr Bibek Banskota, the director of the hospital – the son of the founder – met with Andrew and Inez. In discussions with him, they witnessed his commitment and passion for the mission of the hospital. It was clearly a calling for him, not a job.
HRDC runs outreach clinics in rural Nepal, as screening camps for disability. This is a significant part of HRDC's work, but sadly, many of the disabilities are only found late when they are severe. The hospital treat many toddlers and older children who need significant surgery to correct their disability. Considerable investment is put into the rehabilitation of the children post-operatively, both physically and psychologically.
Thank you for your ongoing support for the cbm-funded HRDC hospital, and for helping children with disabilities in the world's poorest places, like 7-year-old Amit pictured with Andrew. Your kindness and generosity is greatly appreciated and so close to the heart of God.
"Whoever welcomes one of these little children in my name welcomes me…" – Mark 9:37