Light up the lives of people, like Mary, who are living in darkness.
Please give the Miracle of Sight today.
"The people living in darkness have seen a great light…" – Matthew 4:16
Mary, from Zimbabwe, should have retired by now, but she must keep working for years to come as she's the sole provider for her beloved grandchildren. Orphaned at a young age, her grandchildren still need schooling, but without an income to pay for their education, their future will be very bleak.
The youngest was just two years old when their parents died. Mary grieved for her daughter and son-in-law, but set to work laundering neighbours clothes and ploughing their fields to earn money to raise her grandchildren.
Over the years, though, Mary's vision slowly faded. Cataracts were growing in her eyes, until quite suddenly, Mary became totally blind. This was a huge blow for the loving grandmother and for the two young grandchildren she was trying so hard to raise.
For just $35 you can help give people, like Mary, the Miracle of Sight. Please prayerfully consider sending a generous gift today so more people living with avoidable blindness can receive the cataract surgery they urgently need.
Mary's heart ached that she would die of old age before her grandchildren's future was secured, but the reality of her becoming blind was just as heartbreaking. If she could not work, they could not eat and they could not attend school.
This is such a contrast to the privileges we have in New Zealand. In our country, if cataracts steal your sight you may need to be on a waiting list, but eventually you will undergo surgery.
Unfortunately, the opportunity for eye surgery often is not available in the world's poorest places. People like Mary have no hope of ever being able to pay for cataract surgery. Even when she was working, they could barely afford to get by.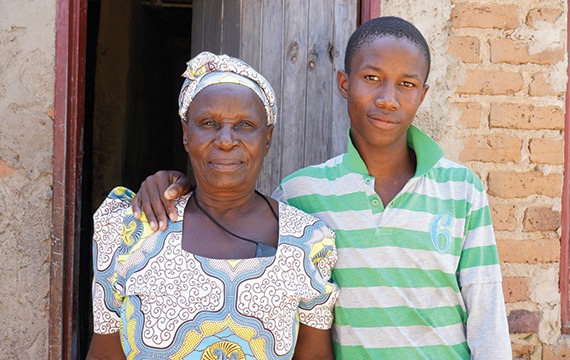 Her older grandson, Constantine, spoke about life before Mary's blindness. "When it came to food, we tried to manage with the little we had. It was difficult. The biggest challenge for Grandma was paying for our education. Each term, I saw her struggle to pay mine and my brother's fees."
Since Mary became blind, young Constantine's heart has been breaking for his grandmother. He tries to help when he can.
Thanks to generous people like you, there is a solution to difficult situations like this.
Please help restore sight, for people like Mary, today. Your gift will help provide sight-saving surgery for people who are needlessly blind, while also blessing the children who depend on them for a brighter future.
Despite Mary's sight becoming dimmer and darker, she kept working through the years. "I thought it was a simple problem. Then, in a few short weeks, my eyesight started getting worse, and before I knew it, I lost my eyesight completely!"
Thankfully, Mary's sister-in-law was able to take them in. She generously shared what little she had with them, without holding back. She helped Mary find her way around, and even helped her bathe.
"It really touched my heart," Mary said of her sister-in-law's kindness. Life was not sustainable for them, though. "I just sat, unable to do anything. I needed to work for my grandchildren's future. They were still so young!"
At 66-years-old, all Mary wanted was to get back to working hard, so her grandsons could finish school.
"I need God to help me with this," she prayed. And God heard her cry.
Through local contacts, Mary heard about the cbm-funded Eye Unit near her, where her surgery would cost her nothing! She could hardly believe that it would be paid for in full, by generous people like you living in a far off country!
Her caring sister-in-law took Mary to the cbm-funded Eye Unit, where the skilled eye surgeon confirmed Mary was totally blind due to the dense cataracts covering both eyes. She immediately booked her in for sight-saving surgery the next day.
"I know God will guide me through this," Mary said bravely as she prepared for her surgery.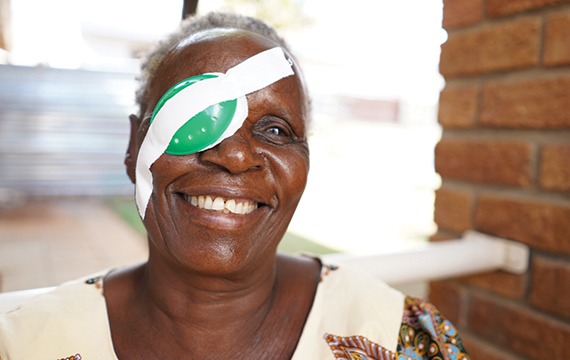 That morning, thanks to generous people like you, 24 patients including Mary received their Miracle of Sight through delicate cataract surgery.
Standing with a big padded patch covering her eye, Mary beamed from behind her bandage. "I am so grateful I have been able to have surgery today. I think everything is fine." Her surgeon agreed.
The next day: Grandma's Good News!
When the head nurse removed Mary's eye patch, brilliant light came flooding through her perfect new lens and back into her life.
As Mary and her nurse danced for joy together, she proclaimed her happiness. "I am thanking God because I can see! I am celebrating, because now I can work for my grandchildren! I couldn't see them. Now I can see them and help them again!"
The surgeon examined Mary's eye and was very pleased – "It's almost full vision. That is good!"
Mary's surgeon, Dr Ute Dibb, is from Europe. Perhaps her reasons for supporting this wonderful work are similar to your own: "I chose eye care because you can achieve a lot with very little cost. You can really change someone's life in a short amount of time, which I find extremely rewarding. To go from a disability to independence in 12 minutes – it doesn't get much better than that."
Mary can't stop smiling. "All I can think of is being grateful for the gift of sight. I am so happy, very happy. My life has already changed."
Her grandson Constantine is amazed and thankful at his grandmother's good news. "I just heard – she regained her eyesight! Last time I saw her, she was blind. Now, she can see!"
It is an incredible blessing, that a gift like yours can help someone like Mary, by removing the double disadvantage of poverty and disability. Thank you for believing in this life-changing ministry.
Across all the cbm-funded Eye Units people like you so generously support in the world's poorest places, there are still more people who are needlessly blind due to cataracts.
Please help to bring these children, mums, dads, and grandparents, the good news that they can see again by gifting the Miracle of Sight today.
Your gift will help fund the cost of cataract surgery for adults, like Mary, so they can return to productive lives. It will help fund the extra costs of cataract surgery for children, including general anaesthetic, so they can have hope for the future. And it will help fund other essential eye health services, including glasses for people whose sight has been damaged by years of cataracts.
Mary is full of joy because she can see again! She will put her new sight to very good use: feeding, raising and educating her grandchildren who lost their parents so young. When you send a gift to help give the Miracle of Sight, you bless whole families and communities. Please send your sight-saving gift today, to light up the lives of more people, like Mary, who are living with avoidable blindness.
Cataracts were heartbreaking for Mary – and not just her. Her sister-in-law's poverty became much worse while trying to support this little family. She knew Mary's orphaned grandchildren faced a bleak future in poverty without an education, if Mary could no longer work.
Please send a gift for sight-saving cataract surgery today. Your gift will light up so many lives. Thank you for your willingness to help people like Mary.