Description
Turning Blindness into Sight in Papua New Guinea.
Thank you for joining us on for Miracles Day.
Together with Radio Rhema and Life FM, you were part of Miracles Day and helped turn blindness into sight for people living in Papua New Guinea.
You will have heard transformational stories of people like Daka, who have been given the miracle of sight-saving cataract surgery, so they can live their life to the full.
What is a Miracle of Sight?
A Miracle of Sight is a $35 gift that gives someone blinded by cataracts the simple 12-minute sight-saving surgery needed to restore their sight. Turning blindness into sight in 12-minutes… A Miracle!
Help give the miracle of sight to our near neighbours in Papua New Guinea (PNG) today.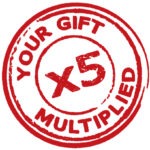 All it takes is a 12-minute operation to restore the sight for someone living with cataracts. This is the miracle you can be part of today.
Today the New Zealand Government, through its Aid Programme, will multiply any gift you give to PNG times five!
Become an Eye Champion and help restore sight for just $35 per month or give a one-off gift of $420 – and with the New Zealand Aid Programmes match – help more adults receive the miracle of sight-saving cataract surgery.
Over the next twelve months, with your help, cbm aims to raise over $220,000 to which the NZ Aid Programme will multiply x5 to $1,100,000.
Your generosity, along with the New Zealand Aid Programme multiplier x5, will help transform the lives of children and adults living with a disability in PNG by:
Funding sight-saving cataract surgeries, and other eye health services, including providing glasses.
Training new ophthalmologists. 
Helping to develop inclusive education for those living with blindness, or who have low vision, by providing braille and tactile skills to infants, pre-schoolers, school age children and adults.
The cbm-funded team in PNG are ready to go, and all they now need are generous Kiwis like you to jump aboard!
Did you know?
Cataracts are the leading cause of blindness worldwide. They form when the lens of the eye gets cloudy which sadly leads to visual impairment and blindness.
Although simple to treat, cataracts often lead to permanent vision loss for people living in poverty as they are unable to access affordable eye-care and surgery.
Papua New Guinea is a near neighbour to NZ and one of the poorest countries in the Pacific.
It's a country that resonates with many NZ Christians through mission trips.
It has one of the highest rates of blindness in the world, and has very low coverage of eye specialists – only 8-9 Ophthalmologists, for 9 million people whereas the WHO recommendation for a country of that size is 70–80.
cbm has been delivering sight-saving surgeries and eye care in the remote Highlands of Papua New Guinea for 40 years.
It is one of the 'Hard Places' on earth to live and to reach with development assistance.
September is all about Miracles! Of giving a precious Miracle gift to restore sight for children and adults.
Turning Blindness Into Sight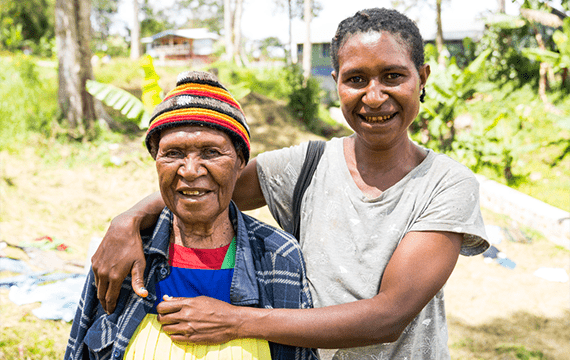 Daka lives in the Highlands of Papua New Guinea and is a fiercely independent and proud woman.
After the death of her husband, she was left to raise her six children on her own. Daka became a leader in the Lutheran church mission in her area, serving for over 20 years.
But as her vision progressively grew worse she had to stop growing vegetables or picking coffee, both essential sources of income for her and her family.
Despite the hardships of their childhood, Daka is very proud that her three daughters and three sons have all completed their schooling, which is very uncommon in PNG.
Her oldest son now looks after the family farm, while her other two sons are teachers. Two of her daughters are married, and the youngest daughter lives with her at home.
Fiercely proud and independent, when Daka's loss of vision became so bad that she could only see movement, she had to accept that she needed help from others.
This upset her greatly, as she worried that she would not be able to look after herself and her family would have to stay at home with her all day, losing their income. She was determined to try and find someone who could help her.
Fortunately for Daka a cbm-funded outreach worker came to her village and found her, and others like her, needing cataract surgery.
Daka was told of the cbm-funded outreach clinic she could attend. She was excited that help was at hand, but also apprehensive about the cost. Thanks to generous cbm supporters, she didn't need to worry, her surgery would be paid for in full.
Daka was amazed that people she didn't know would help someone like her. She thanked God for His provision and made plans with her daughter to make the long trip through dense bush to the cbm-funded outreach clinic.
The journey took longer than expected and when she and her daughter arrived in Mingende she found that she was too late and had missed the clinic!
She was given the option of travelling further to another cbm funded  Outreach clinic in Goroka, a city 3-hours drive from Mingende. Her daughter encouraged her to make the journey to Goroka, but Daka refused. It was too expensive. She couldn't afford the bus fare and it seemed too far from her family.
With a heavy heart she therefore, returned to her village and decided to wait patiently until the next outreach clinic the following year.
Over the following year, Daka prayed every day for the cbm-funded ophthalmologist to return to Mingende as she found being blind extremely difficult. She became depressed and isolated at home having to rely on her family for her basic every day living. This hurt her.
Even though she tried her hardest not to be shut inside and isolated, it was very challenging to move around the village. The paths were muddy and uneven. She found it tough to find her orientation and needed to be guided by someone, usually her youngest daughter, which made her feel like a terrible burden, so Daka often refused to go out.
An entire year slowly passed and the cbm team finally arrived back in her village. Daka was elated and they gave her the dates of the next outreach eye clinic in Mingende.
When they arrived at the clinic, Daka was seen by the cbm-funded ophthalmologist and her operation was a success.
When she had the bandages removed, she was overwhelmed by emotion. When she saw her daughter, she smiled from ear to ear. Daka had started to forget what people looked like, which was very distressing. Since her loss of vision, she'd had three grandchildren whom she had never seen.
Now she confidently says, with a broad smile on her face, that she doesn't have to rely on her memory anymore and can see people with her own eyes.
She says that now that she has her eyesight back, she will no longer stay at home, but instead plans to go out to help people with chores.
She looks forward to socialising, and she hopes to return to work with the church, something that she has not been able to do for a long time. She plans to start growing vegetables and coffee again, but first, she will need some rest.
Daka says that having her cataracts removed, and her vision restored has been one of the greatest gifts she has ever received in her life.
She is sincerely thankful to every person who made her operation possible and has given her the miracle of sight again.
Whether you've joined us in saving sight before, or it's your first time, we can't wait to show you what a day of Miracles looks like!

Please help Turn Blindness into Sight today.