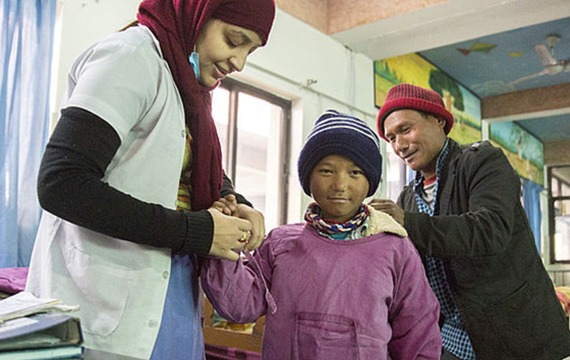 The International Day of Persons with Disabilities (IDPD), also known as World Disability Day is annually observed on 3 December each year. This Day aims to promote an awareness of disability issues and mobilise support for the dignity, rights and inclusion of persons with disabilities in all aspects of society and development.
Pictured is 11-year-old Dipendra, who had bilateral cataracts and underwent surgery at cbm-partner Biratnagar Eye Hospital in Nepal earlier this year.
Focusing on avoidable blindness
This year, cbm will use this Day to bring attention to avoidable blindness. Blindness and visual impairments are often preventable – to be precise, 190 million of the 253 million people living with severe visual impairments or blindness could have been able to avoid their disability. However inadequate health care often hinders prevention and treatment.
Cataracts are among the most common causes of blindness and severe visual impairments. In the case of cataracts, the lens is clouded. It can be replaced with an artificial lens by a simple operation. Affected persons can thus regain their sight. A pair of glasses or a magnifying glass can help those who have severe visual defects.
In low-income countries, many people cannot afford to see a doctor. In addition, there is often a lack of medical staff, especially in rural areas. This is how poverty to blindness.
There is a vicious cycle of poverty and disability:
• If you're poor, lack of access to medical care, poor nutrition and living or working conditions mean you're much more likely to have a disability.
• If you have a disability, lack of access to education and livelihood opportunities, combined with stigma and discrimination, mean you're much more likely to be – and stay – poor.
• cbm is working to break this vicious cycle of poverty and disability. cbm actively strengthens local structures and improves health care in the world's poorest regions.
Fighting preventable blindness for over a 100 years
The simplest and most effective way to fight preventable blindness for cbm is by financing eye treatments. Poor patients who are unable to afford medical interventions receive necessary medical assistance in our partner hospitals in low-and-middle-income countries around the world. Thanks to cbm donors, this year we operated our 15 millionth cataract surgery.
In addition, we also finance field assignments – doctors from hospitals travel regularly to remote regions to examine rural population and identify and treat eye problems at an early stage.
Finally, cbm also provides training of medical personnel in low-and-middle-income countries. Our long-term goal is that comprehensive medical care be available in every country in the world, and that it be accessible and affordable for all.