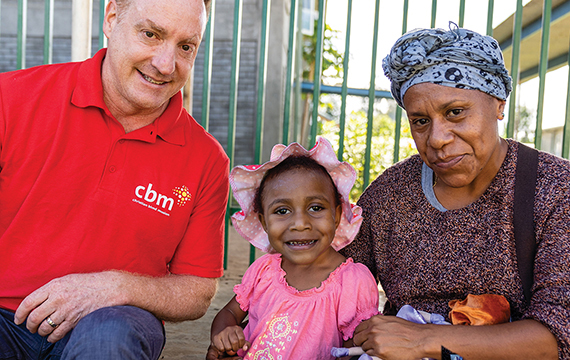 A few short weeks ago, I never thought I would be writing a message to you like this one. Yet as we all unite to fight against COVID-19, I felt it important I update you on our work overseas and changes to our administrative procedures, as a result of the closure of our physical office during the lockdown.
We are living in an unusual time. But God is with us. I love the message "be kind". Isn't it amazing that a Fruit of the Spirit is a key government message in these times!
The cbm New Zealand Board, staff and cbm partners are totally committed to the mission of transforming the lives of people living with the double disadvantage of poverty and disability. And as a valued cbm supporter, together we can all continue our work towards an inclusive world in which all people with disabilities achieve their full potential by restoring hope where hope is lost.
COVID-19 has a disproportionately large effect on those with disabilities overseas. Barriers to protection with sanitation, barriers accessing health care, difficulty enacting physical distancing (if they need care), and the fact that prior health conditions tend to exacerbate the virus's effects, are issues already identified.
Right now our cbm partners across the world are working within their government recommendations and consequently there may be changes to the way some services are delivered.
Although our NZ office is closed during the lockdown, my staff will continue to work from the safety of their homes. My apologies for any delays in the processing of your generous donations, receipts and any correspondence you send during this time.
We see you as our cbm family. More than ever, we value your ongoing support. Beyond the challenge of COVID-19, and together in faith and in prayer, I pray we can continue to put love into action.
In countries like Nigeria – by providing surgery to women like Victoria who suffer from obstetric fistula and as a result are isolated and shamed;
In countries like Rwanda and Papua New Guinea – by providing sight-saving cataract surgeries;
In countries like India – by providing people with disabilities assistive devices, rehabilitation and enabling them to support their livelihood.
The easiest and quickest way to stay touch with us is through emailing enquiries@cbmi.org.nz
As we had to move quickly to close the office, there may be some delays in answering the phone. If the phone is not answered, please leave a message, and we will endeavour to call you back.
The most efficient way to continue donating through this time is either online via our website or by direct payment to our account 01-0154-0234678-00. Please include your name and your supporter number if you have it. If you don't know your supporter number, it's not a problem. Please send a quick email to let the team know you have made the donation.
My team hope to have your tax receipts mailed out by the end of April, but due to the lockdown this may not be possible. I will advise you closer to the time to let you know if there are delays to sending them, beyond our control.
Thank you for all you have done and will continue to do in support of those in need. cbm partners and staff will continue to do our utmost to improve the quality of life of people living with disabilities in the poorest countries of the world.
I pray for protection and good health for you and your loved ones during this difficult time. I pray our love will be put into action to help transform the lives of the people we serve.
With heartfelt thanks and appreciation, I sincerely thank you for all the love and care you show to those living in poverty with a disability.
Yours in Christ,
Murray Sheard
CEO, cbm New Zealand
"God is our refuge and strength, an ever-present help in trouble" –
– Psalm 461:1