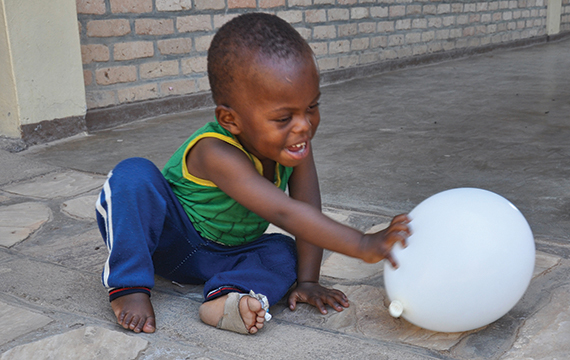 Theo's dad never knew the joy a parent has when their child sees them come into a room, that moment when their face lights up from recognition. Because of cataracts, the blinding white curtains growing inside his eyes, Theo couldn't see his dad.
"We were very worried," said Theo's dad. "If Theo is blind, he will always need help. What would become of him?"
"…I have come into this world, so that the blind will see…" – Jesus, John 9:39
Because of generous people like you, Theo's cataracts are now gone. At last he can see his dad's face and his mum's loving smile. Imagine being there to share this special moment knowing you had made it possible.
Theo's parents tried absolutely everything they could to help him – but the costs around cataract surgery are far too high for most families in Rwanda.
In fact, Theo's mum and dad sold the family's entire livelihood – two goats and a breeding sheep – just to pay the bus fare to find help for Theo.
Your eye clinic in Kabgayi, Rwanda, is only one place in the entire country of 12 million people that can remove a child's blinding white cataracts.
cbm supports eye surgeons like Dr David Muhire Karama. This incredible eye surgeon was born, raised and trained in his homeland of Rwanda.
Last year Dr David performed an astonishing 2,397 eye surgeries, including more than 1,200 cataract operations, giving sight to children like Theo.
Dr David remembers the moment as a medical student when he found his path in life. "I was amazed by the excitement of patients blinded by cataract who could see again after surgery. I remember seeing patients hugging the surgeon."
That surgeon invited David to watch a cataract operation. "From that day onward, I decided to become an ophthalmologist. It is a very delicate and rewarding specialisation."
Today, please help those people by supporting Dr David Muhire Karama in his fight against avoidable blindness in Rwanda.
Theo was born blind but now he can see. Because you care about the world's most disadvantaged children, please keep opening the eyes of other children in Rwanda.