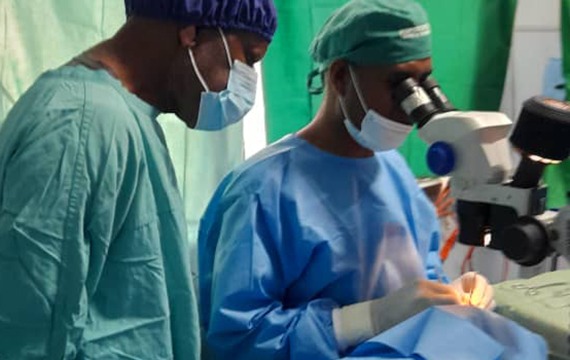 cbm NZ and their partner in PNG, the Network of Callan Service for Persons with Disabilities, recently teamed up with the East Sepik Provincial Health, Eastern Highlands Provincial Health, Western Highlands Provincial Health, Fred Hollows Foundation, Maprik District Health and the Department of Health, to perform over 500 sight-saving cataract surgeries.

Many people with cataracts in PNG have not been able to access professional treatment because of the inaccessibility of the service in most centres around the country.

The team of specialist ophthalmologists conducted an initial two-week cataract outreach clinic, which was extended for an additional week, to ensure all patients received treatment. Callan Services Programme Coordinator Chanel Luwe said, "The outreach was important and timely because it brought services right to the people in the rural areas, who for years have not had the access to eye care."

The outreach team screened over 1,000 patients with an estimated 500 patients undergoing eye surgery – which was 200 operations more than the expected target of 300.

From the cataract screenings, the team were able to determine the severity of the cataracts. People with more severe vision impairments were given priority for eye surgery. The ophthalmologists, who performed 30-40 operations daily, were praised for their dedication as they worked late into the night and on some days ended the clinic at around 2-3am.

Many patients who had their sight restored, had been living in the dark for almost a decade. They were emotional and very grateful to the surgeons, the support staff and the organisations committed to restoring sight to people without vision.

The main support for the cataract clinic comes from regular gifts from kind and caring people like you. By supporting cbm's mission in PNG, you are allowing cbm to partner with organisations like The Network of Callan Services for Persons with Disability, and the New Zealand Government's Aid Programme (which matches your donations to PNG x5).

Callan Services Inclusive Eye Health Coordinator Brother Desmond Taboeya when acknowledging the partners said "With good collaboration and partnership in all sectors, we can do more for eye care in PNG."

Thank you for your generous support to help reduce avoidable blindness for our near neighbours in PNG.
"The eye is the lamp of the body. If your eyes are good, your whole body will be full of light." –  Jesus, Matthew 6:22