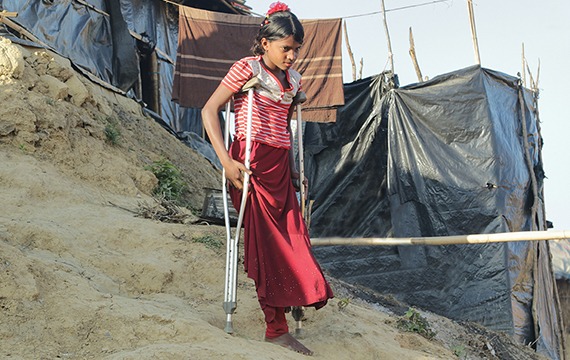 Help keep hope alive for children like Rashida, living with disabilities in the overcrowded refugee camps, in Cox's Bazar, Bangladesh…
"May the God of Hope fill you with all joy and peace in believing, so that by the power of the Holy Spirit you may abound in hope." – Romans 15:13
This Christmas, as we celebrate the birth of our Saviour Jesus Christ, the Hope of the world, we wish to express our heartfelt thanks for your continued generous support of the ministry of cbm New Zealand. Thank you for your loving kindness towards those living with disabilities in the world's poorest places.
Thankfully, cbm's mission has continued this year despite the ongoing spread of COVID-19, and today we share with you how you can bring the 'light of hope' to children and adults living with disabilities, in the overcrowded refugee camps in Cox's Bazar, Bangladesh.
Your gift today will be matched dollar for dollar up to the amount of this year's Christmas Miracle Match Fund, which has been set up by a kind group of cbm supporters, to encourage others like you to help support refugees living with disabilities in Cox's Bazar.
There, among steep, high hills of packed sand, nearly a million Rohingya refugees are jammed into monsoon-soaked camps.
The whole world watched horrified as Rohingya refugees fled for their lives from their homes in Myanmar. Their villages were burned in the violent fires of ethnic cleansing.
Many were killed, injured and disabled in that rush to reach the border into Bangladesh – an Exodus for our time.
You may remember Saleha, a grandmother who was being chased by marauding soldiers. Herded into a minefield, her feet and lower legs were destroyed when she stepped on a mine. Screaming, she fell to the ground.
Hearing Saleha's screams, other refugees turned back to help her, despite the danger. They put her on a rickshaw and brought her, dying, to the refugee camp.
It was a generous gift like yours that provided Saleha's medical care – saving her life and giving her wonderful new prosthetic legs so she can stand and walk.
cbm supporters like you showed incredible generosity and grace towards Saleha's appeal.
This Christmas, please will you prayerfully consider sending a gift of hope for the Rohingya refugees living with disabilities. Your gift will be doubled this Christmas by the Christmas Miracle Match Fund!
In October, a small group of cbm supporters were asked if they would make a special gift to the Christmas Miracle Match Fund. They believed so strongly in the ministry of cbm New Zealand that they wanted to encourage others like you to give and support the cause… to help bring the light of hope to refugees living with disabilities in Cox's Bazar.
Together, this group of supporters has contributed $58,700 into the Christmas Miracle Match Fund, to match your Christmas gift dollar for dollar, which means your gift of doubles if you donate before 17 December or before the Match Fund runs out.
Please take advantage of having your gift matched by the Christmas Miracle Match Fund, because life in the refugee camps is hardest of all for those with disabilities.
Your gift will be a blessing to heartbroken refugees, helping to free them from a lifetime of pain, allowing them to live independently. Your generosity will help restore their dignity!
Living in a refugee camp is difficult for everyone but it's especially difficult for people with disabilities. They are always the last in every queue. They find it so hard to climb up or down the slippery, perilous steps on the steep dune-hills to reach the water tap or the sanitation facilities.
Yet, for all that, they have a sanctuary. It is the cbm-funded Medical Centre supported by kind people like you – where Saleha received her new legs.
The cbm-funded Medical Centre is like the kind of sanctuary Mary and Joseph found, when they too were forced to move from their home while Mary was heavily pregnant.
The parents of Jesus found a rough-and-ready stable – and the cbm-funded Medical Centre is a bit like that too, with its tent entrance and tarpaulin walls for the treatment rooms. But like the stable in Bethlehem, joyful and life-giving wonders happen there.
Please will you prayerfully consider sending a generous gift this Christmas to keep this precious cbm-funded Medical Centre open and running. The love and care being ministered there is a refuge and strength to refugee children like Rashida.
Let me share with you Rashida's story:
Back in Myanmar, when Rashida was just six-years-old, as the wave of animosity against her people was rising, she had a very nasty fall and broke her leg. It was a horrible break, a terrible multiple fracture. She broke every bone that gave her the strength to stand.
Amid the growing violence, there was no treatment available for such a radical fracture. Medical staff had all fled. Rashida's mother had died and her father was trying to keep all his children safe.
With no cast, strapping or bandaging available, Rashida's bones just set in their broken shape. Kinked and crooked. It was a tragedy. With her fractures fused so badly, her muscles were unable to graft back on to the bone. Her leg muscles lost their function and strength. They shrank and withered.
This devastating crookedness in her leg threw out the muscles in her hip and back. They became board-hard and the pain would not stop.
Rashida's leg was useless to her. Her hip would not move at all. She could not easily stand and walking was exhausting. But in all this, her father is an absolute hero.
Somehow, I can't imagine how, her father was able to get her out of Myanmar along with her brothers and sisters.
Since then, in the refugee camps, her father has done absolutely everything for Rashida. She could not get dressed or go to the toilet without help!
Rashida has been so sad and heartbroken over the limitations on her life. "I cannot walk normally," she mourns. "I cannot walk far, because it causes me intense pain. I cannot collect water or work for long."
So much trauma in her life. So much despair. Trapped in a camp rife with human waste and diseases like diphtheria, cholera and dysentery. If you have been reading our update emails, you'll know about the illness, the fires, flash floods and landslides – with tens of thousands of people needing emergency assistance.
For a shelter, Rashida's family has just tarps lashed to bamboo poles. She is homeless. Stateless. She has lost her mother and her land. She has known the terror of being chased by state powers who cared nothing for her life or her pain. Along with all that – a serious, life-affecting disability.
Then… like Joseph and Mary finally being told there is a stall for them, after so many inns with no room, Rashida's father heard about the cbm-funded Medical Centre in the adjacent camp.
Despite being in excruciating pain, Rashida, helped by her father, took the long exhausting walk from their camp to the next. The walk left her wiping the sweat of effort from her brow… but there they found help at the cbm-funded Medical Centre!
The stairs to the Centre are extremely steep – every slope in the camp is steep. The steps are carved out of the sand. The rain had made them slippery – but finally she reached help.
Thanks to the generosity of people like you, the Medical Centre is a buzzing hive of nurses, GP's, an eye doctor, ear specialist, physiotherapists and also a place for psychological counselling – for those so traumatised by their lives as refugees.
There is even a special room for deeply troubled children in the Medical Centre. A place to settle their wounded spirits, with a very popular little slide, puzzles, balls and games. When the Rohingya children fled from death, they had to leave their toys behind.
Into this kind, caring Medical Centre came Rashida, to be seen by a doctor for the first time in her entire life.
She was so excited. Surely these kind people will fix my leg, she thought.
Sadly, it is not that simple. Rashida's leg is so badly malformed, it would need extensive and challenging surgery even here in New Zealand.
Such elaborate surgery is just not possible in the refugee camps of Bangladesh. Her leg bones would need to be rebroken, chiselled away, re-sculpted, completely rebuilt. That is simply impossible in these conditions.
The hard truth for Rashida is that she will always need to use crutches. But thanks to generous people like you she can have the two greatest desires of her young heart. Freedom from pain and independence of movement.
Physiotherapy will unlock and reshape the constricted stiffened muscles of her leg, hip and back. She will be able to bend her leg. She will be able to dress herself. Go for water by herself. Climb stairs. The dignity of tending to her human needs by herself, without help from her father or sisters.
That is all she wants, after all she has been through. Freedom from pain and independent living.
Shaila, her occupational therapist, showed Rashida the exercises for easing her muscles and strengthening them in the right direction, and how to improve the balance in her body.
No-one had ever focused this much care and attention on Rashida. She concentrated very hard, not wanting to forget a thing, so she could do the exercises herself back at her family shelter.
"I can already see the treatment is good for me!" she exclaimed after her first session. "It's not hurting."
Thanks to the kind support of people like you, Shaila was able to promise to walk with Rashida through her long journey towards mobility and independence.
However, this was an offer Rashida did not think she could accept.
"The problem is," she cried, "the long tramp to therapy is incredibly exhausting and painful. It's a huge distance. I fear I won't be able to manage it again."
Rashida, don't despair. If you cannot come for care, care will come to you.
Really? She could not believe these glad tidings!
It is the loving kindness of people like you that allows the team at the cbm-funded Medical Centre to operate a Therapy Bus. Your generosity really can be the hands and feet of Jesus in these camps, taking disability treatment to those who cannot get to the Centre themselves.
Today, please will you do everything you can to keep this ministry running. Right now there are so many other refugees like Rashida who are desperate to be free from a lifetime of pain, to live independently, and to have their dignity restored.
Please send your generous gift which will be doubled dollar-for-dollar up to the amount of the Christmas Miracle Match Fund, if you donate before 17 December, or before the Match Fund runs out.
In the Christmas spirit of good news and great hope, here is how your Christmas gift can be a double blessing:
You could help support disability therapy giving freedom from pain and independent mobility to someone like Rashida; or help support the staff at the cbm-funded Medical Centre, including nurses, doctors, specialists and psychosocial trauma therapists. You could also help support the vehicles the Centre needs to maintain – a therapy bus to visit patients like Rashida and an ambulance for medical emergencies.
Your Christmas gift will help give the light of hope to Rohingya refugees living with disabilities. Like Rashida, they have suffered so much. She lost her mother. She had to flee from her home country under threat of death. She now lives in difficult conditions in one of the world's largest refugee camps on a monsoon-swept beach… and on top of all that cause for despair, she has a severe disability that has marred her childhood with years of pain, indignity and difficulty.
Please keep the light of hope alive in Rashida's life – and for other Rohingya refugees with disabilities, by sending your Christmas gift today. Thank you so much for your continued kindness to people living with disabilities in the world's poorest places.
May God bless you and your loved ones this Christmas.