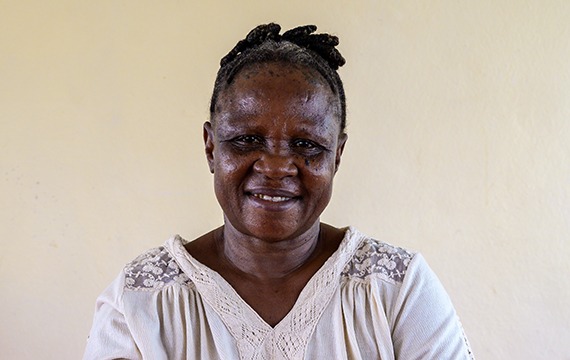 Leaking urine for 27 years. Almost half her life!
Please will you prayerfully consider sending a gift to help heartbroken mothers like Olubunmi so they can be freed from the life-long smell, shame and isolation of obstetric fistula…
Jesus said to her, "Take heart, daughter, your faith has healed you." And the woman was healed at that moment.
– Matthew 9:22
Olubunmi's name means "Gift of God", and as her name suggests, she is a faithful woman. She lives in the huge city of Lagos, on Nigeria's coast and is surrounded by 15 million people, but even living amongst this large number of people she has been suffering and unable to find help for the last 27 years!
She is 60-years-old and has been uncontrollably leaking urine for nearly half her life!
Today, will you please prayerfully consider sending a generous gift to help find and restore the health of mothers like Olubunmi, suffering from obstetric fistula.
It was 1994 and Olubunmi was 33 years old when she gave birth to her youngest child, a much loved baby boy. For the first ten days, everything seemed fine, but then she started leaking urine…
…and she has never been dry since. Not for 27 years!!
For fear of leaking urine because of her fistula, Olubunmi has lived half her life in heart-breaking shame. She is mortified if anyone catches a whiff of her condition, but she knows she cannot hide the smell for long, no matter how tightly she wraps herself.
She avoids public places and crowds, in case her condition is discovered. Even when she sleeps, she leaks uncontrollably.
"It is a shameful thing," she cries. We wish she wouldn't feel shame, but who would not be heartbroken by years of urine constantly seeping through their clothes?
Olubunmi's story is a reminder – as so often with fistula – of the women with the issue of blood in the Bible. She must have felt so isolated, ashamed and unclean.
This woman spent all she had, trying to find treatment. No-one could help. In the end, when she had nothing left, her miraculous healing came from touching the hem of Jesus's garment.
Olubunmi's situation has been similar. Over the years, and over the decades, she has tried everything to get treatment, without success.
She spends most of her days at home but when she is forced to go out, she wraps herself tightly and scurries through the crowds, hoping no-one notices her smell. She has spent all she has trying to find treatment. Year after year she has not found help. No-one can help her. They send her home to grieve, because no-one can tell her what is wrong.
But, thanks to generous people like you, there is a solution to help set heartbroken mothers free from the smell, shame and isolation of obstetric fistula.
All this pain started many years ago for Olubunmi during labour. The pressure of her baby's head cut off the blood to the thin wall between her birth canal and her urinary tract. The flesh died… and over the next ten days it decayed away. Finally, urine broke through and has been flowing from her birth canal for 27 years.
Despite all she did to manage this debilitating health condition, nothing could ever stop the leaking… except specialist surgery.
After 27 years, no-one had ever helped, she had no money left… and then COVID-19 hit and put Lagos into lockdown. That is when Olubunmi, feeling so rejected, gave up, after searching for treatment for so long.
COVID-19 was the last straw. She felt so alone. She had only ever confided in her husband and her children – and on top of all this, her precious little boy, born in such a traumatic way, had died from the harshness of life in poverty. Isolated and grieving, she gave up all hope.
With the world thrown into turmoil by COVID-19, who would care about a woman leaking urine?
It is loving kindness like yours that brings hope to heartbroken mothers like Olubunmi, who are suffering in shame and isolation in Nigeria.
Through your generous gift the cbm-funded Survive Fistula Healthcare Foundation (SFHF) can help many mothers to be set free from obstetric fistula. Their dedicated staff are always searching for precious mothers like Olubunmi – but how do they find a mother who has kept herself hidden for five, ten or 27 years?
cbm's partner SFHF make it their mission to find mothers in need even with the challenges of operating under COVID-19 restrictions – so they conducted another of their awareness campaigns in Lagos. This time, their loving kindness found Olubunmi!
"I was very excited, very glad," she said. "I've been praying about this and I knew one day God would help!"
Olubunmi learnt about the free life-changing fistula surgery possible because of generous people like you. She couldn't believe that after all these years, her leaking urine and suffering would soon be gone. But she had a long journey ahead of her. She was able to board a bus in Lagos, with other desperate mothers who also suffered from living with fistula, for a 12-hour journey to Kwali District Hospital near the capital city of Abuja.
After a long and exhausting journey, she was warmly welcomed by the staff of SFHF. She was lovingly cared for with respect and dignity.
Yet she was fearful and apprehensive, after all these years she didn't quite believe this was happening. Surely something would go wrong, and her hopes would be dashed, yet again!
Olubunmi didn't need to worry. Thanks to generous people like you, this time hope is real!
Olubunmi was examined and scheduled for surgery. The next day when she came through her surgery successfully, Olubunmi was elated!
She is overcome with emotion. She is dry, she does not smell and she does not leak! Her 27 years of shame, suffering and isolation are over!
Through delicate surgery, generosity like yours will help to restore all that fistula has stolen. Friends. Family. Church. Community. Work. Income. Happiness. Hope.
How wonderful! What a life-restoring gift to give to heartbroken mothers who suffer from obstetric fistula.
Today, there are more mothers hidden in shame like Olubunmi, who are still to be found and restored. Please will you prayerfully consider sending a gift to support the cbm-funded SFHF. Here is how your loving kindness can help:
Your gift will help find mothers hidden in shame and isolation living with obstetric fistula.
Your gift can help provide a safe haven for mothers who are cast out in shame because of this debilitating health condition.
Your gift will help support life-restoring fistula surgery, hospital care and home medicine for mothers like Olubunmi to heal.
Please send your generous gift today, to help restore mothers who have been suffering from the smell, shame and isolation of fistula… some of them for decades.
Olubunmi once worked as a celebration chef – cooking for weddings, birthdays and parties. All that joy of being with others was ripped from her 27 years ago. But thanks to generous people like you, she is now healed and can start her life again. She can once again become a productive member of her family and community. Olubunmi is overwhelmed with gratitude for all the love and care she has received because of generous people like you. Thank you for caring for mothers like her.
Fistula ministry is so wonderfully life-restoring. Please keep helping mothers like Olubunmi escape a life of shame and isolation by sending your generous gift today. Thank you.