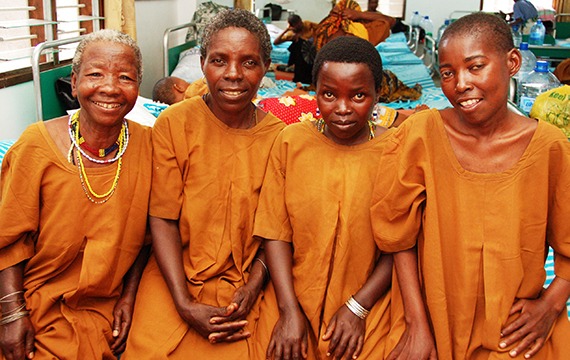 Obstetric fistula is a health condition that has life-threatening consequences for women in some of the poorest countries in the world, and is sadly associated with shame and stigma.
With the United Nations' International Day to End Obstetric Fistula on 23 May, cbm is shining a light on this preventable, treatable condition and our work towards eradicating it.
A fistula can occur when an unborn baby's head puts too much pressure on a mother's maternal tissues, which restricts the blood supply. When the tissue dies it leaves a hole, or fistula, which can cause urine and faeces to leak uncontrollably.
"Fistula is usually caused due to prolonged labour or complications during surgery. The impact on women is very sad – they are physically, socially and psychologically affected," says Victoria, a midwife with Nigeria's Survive Fistula Healthcare Foundation.
"They don't have a life of their own [and] they face a lot of condemnation in the community."
Nigeria has the world's highest rates of fistula with over half a million women living with this life-altering condition. The World Health Organisation estimates that more than two million young women live with untreated obstetric fistula throughout Asia and sub-Saharan Africa.
The Foundation works directly with people and communities to discuss challenges relating to women's access to healthcare and explore and advocate for solutions.
"Education is very, very important. We are talking about preventive measures. We go to schools and talk to young girls," she says.
Victoria outlines a number of factors that have lead to Nigeria's high rates of fistula cases, including traditional beliefs about home births, cultural practices and poverty.
"The poverty level in Nigeria is high, the average mother can't afford private medical health care services. They have to go to Government facilities [but] the health system is not very good," she explains.
"Now, we have [effective] facilities but the cost of the surgery keeps [people] back. Another thing is accessibility – due to the high number of fistula cases when you get there, there may be 50 people booked for surgery and they tell you to come back."
Greater access to quality healthcare, including midwives and doctors, can help women to avoid fistula due to identifying problems during labour. Women living with the condition can have it treated with the surgical closure of an obstetric fistula.