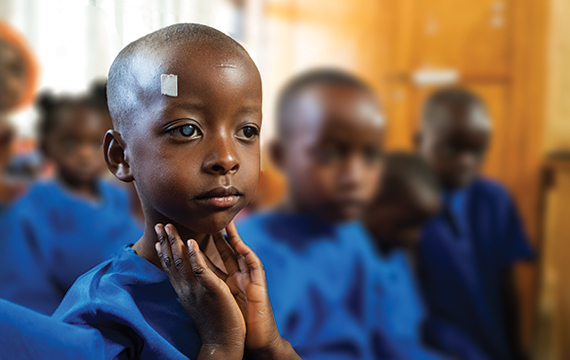 Please save the sight of children like Obed.
While we have all been in lockdown, we're happy to report that the Kabgayi Eye Clinic in Rwanda has still been operating under strict COVID-19 protocols. Thankfully children like little Obed have had sight-saving cataract surgery, despite a global pandemic. This could not happen without generous supporters like you.
"…I will turn the darkness into light before them and make the rough places smooth. These are the things I will do; I will not forsake them." – Isaiah 42:16
As Obed approached school age, the cataracts in his eyes became so dense, he could no longer see. Being so young, Obed had no idea how dangerous it is for a child in poverty to be blind.
He had to be led by the hand. He could not catch a ball. He could not go to school. He was teased, mocked and rejected for being blind. His future looked lonely and bleak.
Being blind made Obed very frightened because his family live on a steep mountainside, with just a narrow, slippery goat path.
"He became afraid to leave the compound," his father explained.
In the poorest places, child blindness can be a matter of life and death due to challenging physical environments such as open fire pits, accidents in the surrounding bush and on steep mountainsides… It is absolutely vital that the Kabgayi Eye Clinic keeps operating on children to give them the miracle of sight and help save their lives.
For Obed and his family, the Kabgayi Eye Clinic is a sanctuary of kindness and care given through dedicated nurses and surgeons, like Dr Piet Noë from Belgium.
This grateful family could hardly believe their child would receive high-quality sight-restoring surgery. And it's all thanks to generous supporters like you.
In Obed's case, his surgery was urgent. Dr Piet knew that Obed's young brain would quickly forget how to see.
"We should not delay," Dr Piet insisted.
Very soon Obed, in his little blue surgical gown, received the general anaesthetic to keep him safely still and asleep during his surgery.
Dr Piet worked skillfully on Obed's right eye first – removing the cloudy, blinding cataract and sliding a clear new lens into Obed's eye.
The next morning, Obed's eye-patch was removed and he could already see through his right eye again! A week later, Obed returned for surgery on his second eye. Just two sessions of 45 minutes – but what a huge impact this has made on his life.
How incredible, this blind young boy can see again!! Thanks to generous supporters like you, Obed's world is so much more colourful now – and so much less frightening and less dangerous. His future is bright again, with all life's possibilities for learning, playing, making friends and staying safe. What a wonderful gift you give, every time you save a child's sight.
In the crowded hospital ward, Obed recognised his father. He ran into his father's welcome embrace, overjoyed to see his father's face again.
Obed returned to his village, running happily through places he was afraid to step when he was blind. Imagine his joy of seeing his mother and brother clearly for the first time.
Then something remarkable happened as Obed sat to eat his meal of rice and vegetables at home.
"This is the first time ever Obed used a spoon," exclaims his overjoyed mother. "He can put the food into his mouth without feeling his way. Now he can see it!!"
As the world is fighting COVID-19, children like Obed are still going blind. Without your help, their lives are in danger. When you save children's sight, you save their lives.
That is why it is so important to support the Kabgayi Eye Clinic and to keep investing in the ongoing training of its ophthalmologists and nursing staff.
Let us introduce you to a young and dedicated Rwanda physician: Dr Ngabo. His life's dream is to be an eye surgeon and give the miracle of sight.
Kind surgeons like Dr Piet put their careers on hold while sacrificially serving for a few years in clinics like Kabgayi Eye Clinic. How much better if a local doctor can make a clinic his permanent base!
Dr Ngabo's life is a testament to kindness like yours. Growing up an orphan, he was driven to become a doctor to bless the community that raised him. It was his own neighbour who inspired his desire to be an eye surgeon. There were simply not enough ophthalmologists in the country and he saw the need for vital eye surgeons.
Dr Ngabo began work in the Kabgayi Eye Clinic straight out of medical school. He contributes to all kinds of medical work – except eye surgery. That remains his dream: to qualify as an eye surgeon to help patients like Obed. To achieve his dream Dr Ngabo needs your help to complete his eye training.
Please help Dr Ngabo, so he can perform sight-saving surgery on children like Obed, whose lives are in danger because they cannot see. Will you consider sending a gift today to support the Kabgayi Eye Clinic in Rwanda? You could help fund the cost of cataract surgery for a child like Obed, including general anaesthetic. Or help sustain the work of an ophthalmologist and help Dr Ngabo complete his surgical training. Or you could help save children and adult's lives and futures, by helping to save their sight. You will bring so much joy to families like Obed's.
"It makes me most happy, to see Obed playing with the other children and hear him laugh," says Obed's smiling and grateful father.
There are still so many children whose lives are in danger because they cannot see. Please keep saving children's sight – and their lives – by sending a gift to support Dr Ngabo at the Kabgayi Eye Clinic today.