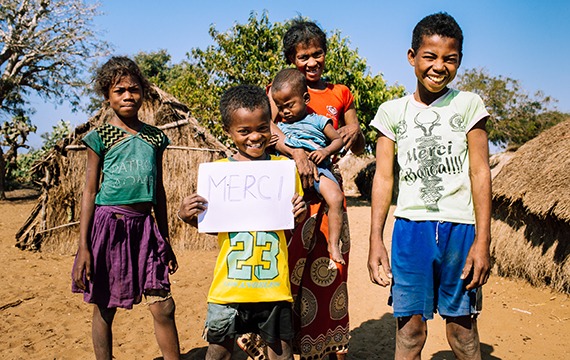 Helping families and people with disabilities on the brink of extreme hunger.
Back in July, you may have seen and responded to an urgent email about the ongoing food crisis in Madagascar.
Through this urgent appeal, over $37,000 was raised to help to provide much needed food and other basic items to vulnerable children and adults living with disabilities, like Anjarasoa and her family, living in the Anosy Region of Southern Madagascar.
Anjarasoa, who has hearing loss, and is pictured with her children above, is so grateful for this support. They now have food and other basic items.
 
This vital support is greatly appreciated. Madagascar has had back-to-back droughts since November 2020, leaving the region's people facing acute hunger. cbm continues to focus on helping those in need with disabilities, as they are often forgotten. But unfortunately the number of children and families who are severely malnourished continues to further increase.