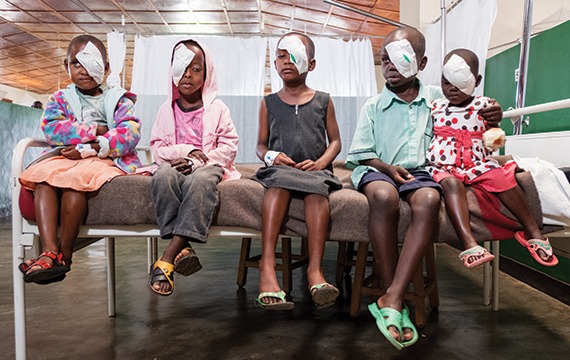 Thanks to generous cbm supporters for faithfully supporting the Kabgayi Eye Unit.

The Kabgayi Eye Unit is a vital facility performing almost 80% of all eye surgeries in Rwanda. It significantly contributes to the eradication of avoidable blindness.

Support from generous cbm supporters over the years, has helped grow and strengthen the Eye Unit, through the purchasing of specialist equipment and consumables, to contributing to ophthalmologist salaries, and helping to train a local ophthalmologist Dr David Ngabo.

Dr Ngabo started his training in 2019, after previously working as a general practitioner at the Kabgayi Hospital. He is very grateful for the support he received from people like you, saying "when a patient comes back with a smile because of the treatment received, I feel so happy."

Because of the past support received, the Eye Unit is now able to continue without further support from cbm NZ. This is a significant achievement, and only made possible through the generosity of kind-hearted people like you. Thank You!

Highlights over the last year, thanks to generous cbm supporters:
6,951 received eye health checks.
905 eye surgeries performed resulting from Cataracts and Neglected Tropical Diseases.
Plus training provided for one Ophthalmologist!