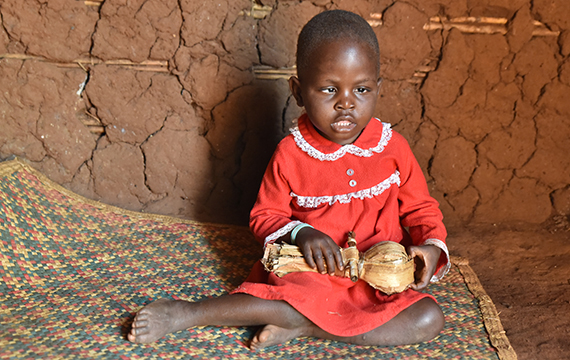 Abandoned at birth by her mother and father, Fatuma was left in the care of Gertrude, her maternal grandmother. Now aged 3, she is much loved and cherished but sadly, every day is a struggle…
Grandmother Gertrude is everything to Fatuma. She plays the role of Fatuma's mother and father at the same time. The bond between the two is evident. Fatuma crawls onto her grandmother's lap and nestles there happily. Her near blind situation is what is disheartening.
Fatuma suffers from bilateral cataracts and was diagnosed at a Mengo Eye Hospital Outreach Clinic, but she is now waiting for her surgery.
She can barely move around. She cannot play with the other children and sometimes suffers abuse from them. She is unable to defend herself from their taunts… she simply sits there and cries.
Fatuma urgently needs your help. Without vital sight-saving surgery, her future is bleak and she has a high risk of not surviving her childhood!
Become a cbm Child Sponsor today and help more vulnerable children like Fatuma overcome the double disadvantage of poverty and disability.