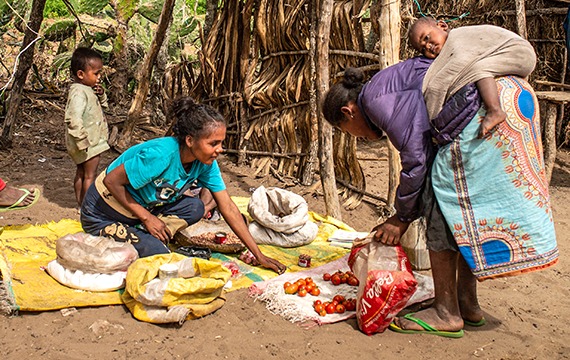 Due to climate change, there is little to buy at a small local market in Southern Madagascar, but the fresh tomatoes are a welcome change from locust or cacti.
The theme for International Women's Day recognises the contribution of women and girls around the world, who are leading the charge on climate change adaptation, mitigation, and response, to build a more sustainable future for all.
Advancing gender equality in the context of the climate crisis and disaster risk reduction is one of the greatest global challenges of the 21st century. The issues of climate change and sustainability have had and will continue to have, severe and lasting impacts on our environment, economic and social development. Those who are amongst the most vulnerable and marginalized experience the deepest impacts. Women are increasingly being recognized as more vulnerable to climate change impacts than men, as they constitute the majority of the world's poor and are more dependent on the natural resources which climate change threatens the most.