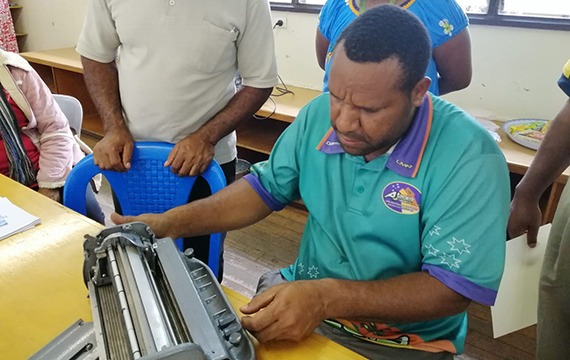 During her recent visit to Papua New Guinea, Karen Jack, cbm's Pacific Regional Co-ordinator, made significant progress for the education of children who are blind or have low.
 
Estimates show that 90% of children with moderate to severe disabilities are not attending school in Papua New Guinea. Without access to effective education, children with disabilities are missing the opportunity to reach their potential, and are often dependent on others for support.

Through the generosity of cbm supporters, and with funds from the New Zealand Government Aid Programme that multiply these gifts x 5, the cbm-funded programme has three main aims:
Supporting schools with knowledge and resources by providing quality disability inclusive education services.
Strengthening schools by providing safe and accessible learning environments that are welcoming for children with disabilities.
Empowering people with disabilities to enrol and progress in their educational journey.
Karen was joined by Ben, cbm Adviser, a Braille specialist from Australia. During the visit, Ben taught inclusive education teachers how to repair Perkins braille machines, provide advice about how to teach Braille, met with a local organisation representing people with visual impairment and co-facilitated a workshop with the National Department of Education to further the plans for providing nationwide Braille transcription services.
 
Thanks to generous support from people like you, blind children in PNG are starting to have access to the same curriculum materials as their sighted peers so they can gain an education and have a far better future.
 
Wishing the children all the very best as they sit their final year exams and a special prayer to support the transcribers working behind the scenes.

Photo above: As part of cbm's inclusive education programme in PNG, an inclusive education teacher repairs a Perkins braille machine under the guidance of Ben Clare, a braille specialist from Australia.