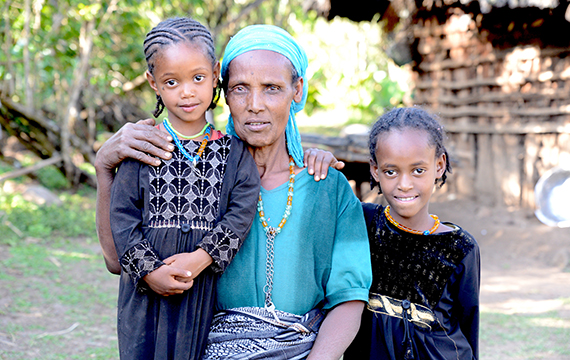 In Ethiopia, Heyiriya is desperate to save the sight of her nine-year old granddaughter Sheite.
"For the Lord is good and his love endures forever; his faithfulness continues through all generations." – Psalm 100:5
Sheite is a loving young girl who has been selflessly caring for her grandmother, during Heyiriya's long and very painful struggle with Trachoma. This has given birth to a dream in Sheite's heart. She wants to become a doctor so she can care for others like her grandmother.
With your support, she could indeed become a doctor for her people. As a cbm supporter, one of your ministries in life has been to make dreams like this come true for children and others who suffer the double disadvantage of poverty and disability. Your generous efforts to eliminate Trachoma have been very effective and successful. However, there are still isolated places where Trachoma is still a constant threat. Sheite and Heyiriya live in such a place.
Sheite dreams of helping people like her grandmother. We cannot let her dream be destroyed by the agony of going blind from Trachoma.
If you have ever had severe conjunctivitis, you have had a painful glimpse of the excruciating agony of Trachoma. Remember your eyes and eyelids at their most painful? You dreaded every blink. With Trachoma, the pain is multiplied – because with Trachoma, your eyelids become swollen and turned in on themselves. Now, when you blink, your eyelashes cut right across the delicate surface of your eyes! It hurts… and eventually it blinds you. Tiny scars build up by the thousand, forming a dense veil over your eyes. Your vision fades away into permanent, irreversible blindness.
Being infected with Trachoma is a terribly painful way to live… and an excruciating way to lose your sight. Please stop that from happening to people like Heyiriya and her granddaughter Sheite.
Trachoma is spread person-to-person. Heyiriya has the Trachoma infection, so Sheite lives in constant risk. Women and girls are particularly at risk, because they spend so many hours close to each other and good sanitation is very hard for women living in extreme poverty.
With poverty like theirs, living space is very limited. All around them are the many ways the Trachoma infection spreads. Hands, clothes, bedding and through the flies that come in contact with moisture from the family's noses and eyes.
They cannot do much about those flies. The family has to share their living quarters with their livestock. If they put their animals outside at night, they would surely be stolen – and that would be a terrible loss for the family. It would destroy them.
For years, Heyiriya was slowly going blind because of Trachoma. Her eyelids had become puckered and swollen and turned-in because of the infection. The painful scraping of her eyelashes was destroying her sight. Then Sheite learned how to care for her grandmother in quite a confronting, but very effective way.
Every two weeks, Sheite leans right in towards her grandmother's infected eyelids… and pulls out her eyelashes one by one with tweezers!
It is painful, but Sheite has spared her grandmother the agony of slowly blinding herself with every cutting blink of her eyelashes.
Sheite's selfless ritual of caring for her beloved Grandi has inspired her beautiful dream of caring for other people as a doctor.
Her dream is at risk every time she leans in close to her grandmother's face, or wipes a fly from her little brother's eyes. It would be heart-breaking if Sheite never became a doctor, because her sight had been stolen by Trachoma.
We need to keep people S.A.F.E. from Trachoma.
S – Surgery: Your giftwill help restore the ingrown eyelids of a Trachoma sufferer like Heyiriya. You will stop their terrible pain and the blinding cuts of every blink.
A – Antibiotic distribution: Your giftcan protect families by supporting a cbm ophthalmic nurse and field worker as they visit remote villages bringing preventative medication and eye ointment for those already infected.
F – Facial cleanliness: Your giftcanhelp teach families how to stop Trachoma's spread, through better sanitary practices.
E – Environment: Your giftblesses a community with all the health and hygiene that comes from safe, clean, plentiful water – protecting them from Trachoma.
Be encouraged! Thanks to your efforts, the World Health Organisation announced last year that 13 countries have eliminated Trachoma as a public health problem. Thank you!
Now please remember families like Heyiriya's in Ethiopia, where Trachoma is still destroying sight, livelihoods and the dreams of children like Sheite, in such a painful way.
Sheite has been faithful in the small things she can do – tweezering Heyiriya's eyelashes and working hard at school so she can become a doctor – but children in Ethiopia urgently need your help to stay SAFE from the agony and blindness of Trachoma.