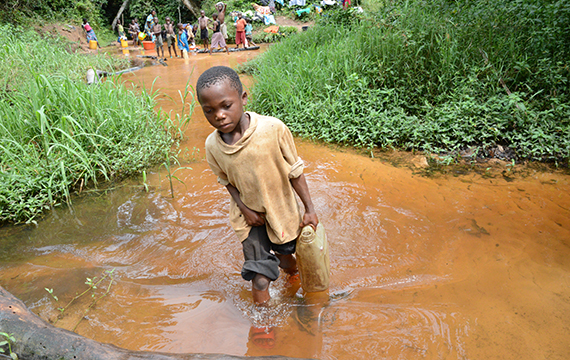 Fortunat was once a woodsman who supported his family by cutting boards beside a river, where black flies often bit him. Like New Zealanders and our mosquitoes, Fortunat thought the flies were just a nuisance, but they were deadly. The flies infected him with parasitic worms, which bred in vast numbers beneath his skin.
"Lumps grew on my body," Fortunat laments. "My skin was itching horribly. The itching was unbearable! I scratched myself constantly. The itching never stopped!"
Isn't it horrible to think of suffering so badly, you gouge yourself with a blade, trying to dig out the writhing worms? What came next was even worse. It's why this cruel illness – one of the world's worst Neglected Tropical Diseases – is called River Blindness.
First they damaged Fortunat's eyes. "I couldn't see people in the distance." Then the worms caused toxic inflammation that destroyed his optic nerves. "I couldn't recognise people right next to me." Fortunat mourns the dark days of August 2000. "I remember exactly. I couldn't see anything anymore. My eyes died nineteen years ago."
"My eyes died. Everything is black. My Grandson, can you help him?"
In the remotest parts of the world, blindness condemns families to poverty upon poverty. Fortunat and his wife moved villages, hoping to beg for survival, but what can you beg from people who have so little themselves? Their hardships multiplied when their son died, leaving them to raise their grandson Dibelayi. They cannot afford to send Dibelayi to school. Instead, this loyal little boy leads his grandfather around with a stick.
Doesn't this go against everything you want to see in a child's life? Fortunat knows Dibelayi is losing out on all his hopes for the future and he is desperate for your help to set today's children free from the trap of River Blindness.
Fortunat can't fetch water anymore, so Dibelayi has to go to the river. Where the black flies bite. Fortunat is terrified that the tragic cycle of parasites will begin again when the next black fly bites his grandson.
But there is hope. Your donation will be multiplied seven times thanks to Merck and Ivermectin tablets provided free and distributed by cbm field team partners.These amazing tablets kill worm larvae before they start torturing children and destroying their eyes.With your support, our work will reach remote villages to hand out tablets and keep careful records, so everyone receives the right vital dose. You will help save their sight and safeguard their hopes for the future.
Tragically, there's no hope for Fortunat's sight. He is forever blind and will never forget the burrowing agony of the parasites. So it is a matter of absolute urgency to stop this happening to children like his grandson.
"My grandson is a person created by God. Can you help him?"
Your generous gift will have its value multiplied seven times through donations of urgently needed Ivermectin tablets.
Your generosity will give children new hope for their lives: they won't suffer, they won't go blind, they will never need to be led by a stick. Thanks to your selflessness, they won't die in pain and darkness.