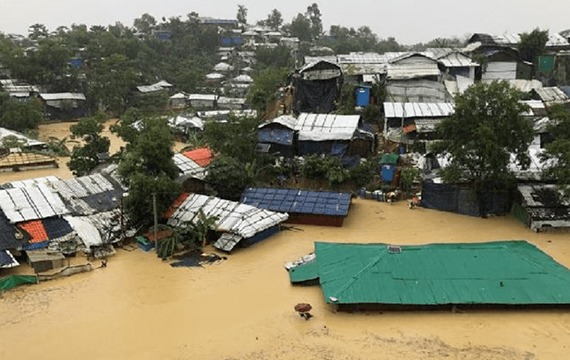 Thanks to the generosity of cbm supporters like you, cbm continues to support vulnerable people in Cox's Bazar as flash floods and landslides destroy houses and livelihoods.
Cox's Bazar in Bangladesh is home to more than 900,000 Rohingya refugees. The area has been hit hard by heavy monsoon rains which has triggered flash flooding and landslides submerging shelters and ruining people's livelihoods. 21,000 refugees are now displaced and over 46,000 in need of emergency assistance. Although relief assistance is being provided in the form of food, clean water, shelter, and sanitation and hygiene kits, flash flooding and landslides continue to hinder road access to and from the camp, limiting the scale of the response. This is being further compounded by Covid-19 restrictions which is not only impacting the movement of relief items in and around the camp, but also the movement of emergency response workers collecting data on where assistance is needed most.
People living in the camps, including people with disabilities, have already fled violence and persecution in their hometown and are now faced with the added burden of surviving an extreme weather event during a global pandemic. Flooded and damaged roads have made it difficult for people, especially people with disabilities, to access essential services. While many people in the camps expressed a sense of hopelessness, people with disabilities were more likely to feel unsafe, and experience psychological stress, trauma and a lack of support from their community. This highlights the need to ensure emergency response plans include people with disabilities, so they are not forgotten about and can access the services and relief items necessary for they recovery.
cbm has been working with partners Centre for Disability Development (CDD) in Bangladesh to improve the health and well-being of those living in Cox's Bazar, by improving access to basic health, rehabilitation and psychosocial services, and increasing disability inclusions. With ongoing support from kind and caring people like you, cbm will continue to support people most at risk, including people with disabilities, throughout this emergency.