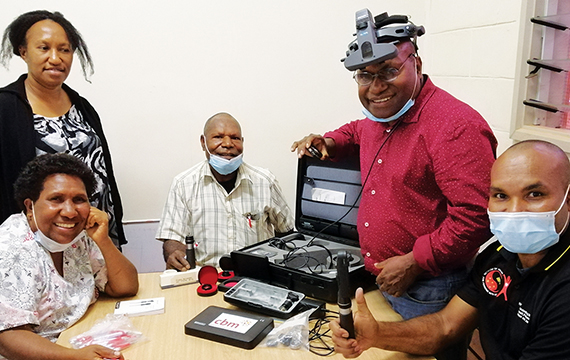 Retired Blenheim Optometrist donates equipment to cbm partners in Papua New Guinea.
During her recent visit to Papua New Guinea Karen Jack, cbm's Pacific Regional Co-ordinator had the pleasure of delivering an amazing gift of some much needed optometry equipment to three of cbm's partners. Goroka Eye Unit (Ophthalmology), Callan Optical Services (Optometry) and the University of PNG (Registrar training programme). All were excited to receive the valuable equipment and books, which will be used to assess eye patients and for training.
The equipment was donated by recently retired Blenheim Optometrist, and cbm supporter, Melissa Jeffries. Included was an ophthalmoscope, retinoscope, retinoscopy paddles, lens flippers, occluders, paediatric trial frames, text books and assorted other items.
Melissa tells us:
"I first heard about the wonderful work of cbm as an optometry student in Auckland. While I never realised my dream of working as an optometrist in a cbm field country, I am delighted to know that my equipment is contributing towards restoring sight and preventing blindness in PNG."
Our partners, and cbm, are most grateful for the gift of this valuable equipment which has already been put to good use.