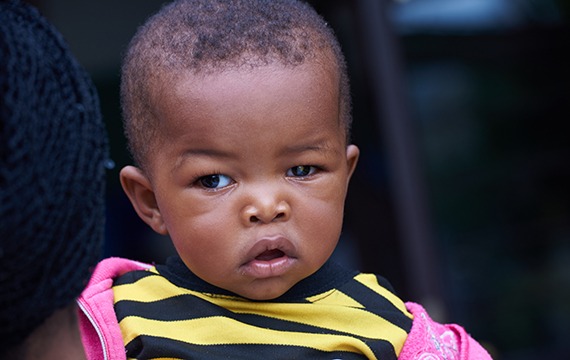 Being blind is devastating… and even a death sentence… for children in the world's poorest places…
"The eye is the lamp of the body. If your eyes are good, your whole body will be full of light." – Jesus, Matthew 6:22
Dieu Aimé in French means 'God Loves' and precious little 8-month old Dieu Aimé, who lives in Rwanda, is a much loved and beautiful baby boy.
When Dieu Aimé was born, his mother Marie had so much love and hope for her newborn baby boy. She loved holding him and caressing his beautiful face.
But when Dieu Aimé was just a few weeks old, she noticed something strange, a tell-tale white spot in the eye of her precious baby boy, and she became very worried. Her next-door neighbour's child had white spots in her eyes too, cataracts, but they were never treated, and she had become completely blind. That thought terrified Marie.
Here in New Zealand, sight loss is just as frightening, challenging and frustrating. In general though, we Kiwis are blessed to receive the vital sight-saving services and medical treatments we need. This is not generally the case in places like Africa, where avoidable blindness is far more common than it is here.
Tragically, blindness for a child like Dieu Aimé can mean unimaginable hardship, poverty, injury, and even death.
That is why the clinic in Rwanda, generously funded by people like you, is so important to children's lives. The medical care you help give to a child's blind eyes will bless them for their entire lifetime.
Dieu Aimé's whole future of blindness rolled out in Marie's mind: no school, so no job, so no family, and no support. Just life-long dependency and poverty.
Marie asked herself the frightening question that haunts so many parents across Africa: what will happen to my child if I get too old to work or if I die, who would help my beautiful baby boy?
The fact is though, if a child becomes blind in Rwanda, there is only one place the family can turn: the Kabgayi Eye Unit, funded through the generous support of people like you. Please help support this wonderful clinic to bring the miracle of sight to children who are needlessly blind.
You will be selflessly investing in their future. Not only will you help to provide surgery and all kinds of eye treatment, you will also be educating future eye doctors, like Dr David Ngabo.
You may recall hearing about Dr David and little Obed back in May last year. Dr David is the young man who had a neighbour… another blind neighbour, sight loss is so common there… who could not get treatment. David was so upset to see his neighbour's life destroyed by blindness, he set his heart on becoming an eye doctor.
Becoming an ophthalmologist is a long and hard road. Dr David truly cherishes the commitment, from people like you, to support his education. He is now completing the second year of his ophthalmology residency programme after having achieved well in his first year.
Dr David is so committed to becoming the eye doctor Rwanda needs. "Every day I am busy working 12 hour shifts in the hospital, and on-call in the weekends, seeing patients."
Dr David is extremely hard working, and he loves how patients react when they can see again. "Rejoicing and shaking my hand and thanking the whole team." He is humbled by this, because he knows there would be no team without you.
"I am so grateful, for my daily learning, and progress in knowledge and skill. I believe that after qualifying as an ophthalmologist, I will go back to serve my community."
"My gratitude goes to cbm New Zealand's supporters, who are helping to sponsor my studies, making this all possible. God bless you!"
Your generous gift changes lives. Because of generous supporters like you, little Dieu Aimé was able to visit the Kabgayi Eye Unit – a five hour bus ride across Rwanda – to receive his cataract operation, without cost to his parents, who could never afford such surgery on their own.
On the day of Dieu Aimé's surgery, Marie lovingly put the little blue surgical gown on her precious baby boy. Dieu Aimé started to cry, but Marie knew in her heart that everything would be fine. She lovingly reassured him, holding him in her arms and clutching her face to his, until the nurse came to take him for his eye surgery.
That day, under general anaesthetic, and thanks to the skill of the cbm-funded ophthalmologist, and the loving kindness of people like you, Dieu Aimé received the miracle of sight.
The generous support of people like you has brought peace to Dieu Aimé's mother, who was terrified for her son.
"I am so glad my baby has been helped. I now know Dieu Aimé will be able to go to school. Everything will be fine."
Marie was really worried that her son could have a very dangerous childhood – vulnerable to burns from cooking fires, falling injuries or being taunted and teased by bullies… and then growing up unable to support himself, make friends or having a family of his own.
It was so frightening to her. Africa can be a very dangerous place for children who cannot see.
Please will you help the people of Rwanda by giving the miracle of sight today, and help them become self-sufficient in eye surgeries and eye treatments in the future.
By helping restore the sight of a child like Dieu Aimé. This includes general anaesthetic, so the little patient can sleep still and safe through their delicate surgery.
By helping sponsor Dr David Ngabo's training as an eye doctor.
By helping protect the lives of adults in Rwanda, by saving and restoring their sight.
"If your eyes are good, your whole body will be full of light." – Jesus, Matthew 6:22
In the language of Biblical time, "your eyes are good" meant "you are generous". And you certainly are. You are so generous to the most disadvantaged families in the world, like Dieu Aimé's. Now, because 'your eyes are good', the eyes of children like Dieu Aimé are good as well – and their lives will be filled with light because of your loving kindness.
Thank you for your 'good eyes'. You fill the world with light and love.