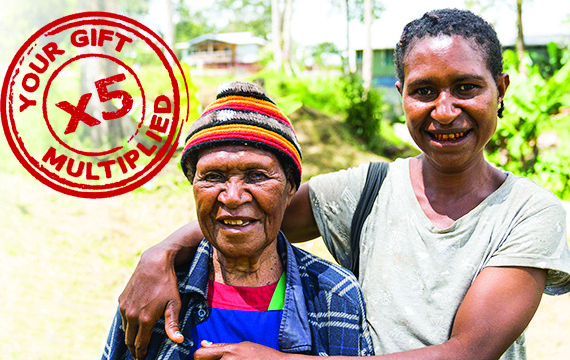 Please help support cataract surgery in Papua New Guinea so more people like Daka can receive the miracle of sight!
Your miracle gift will be multiplied x5 by the New Zealand Government Aid Programme!
"Rejoice in hope, be patient in tribulation, be constant in prayer." – Romans 12:12
Although it was Daka's daughter who took her blind mother's arm and led her through the mud, tangled roots and branches, it was the loving kindness of people like you, who were definitely with her in spirit!
Thanks to generous cbm supporters like you, it was the miracle of sight that Daka was trekking so far to find – through the deep, leg-clinging mud of Papua New Guinea (PNG).
Over many years, Daka's sight had been completely stolen by thick, blinding cataracts – and this is happening to so many children and adults in our near neighbour, PNG.
Today, please will you consider giving the miracle of sight to more precious people like Daka, and your gift will be multiplied x5 by the New Zealand Government Aid Programme match!
Over the next twelve months with your generous support, cbm needs to raise over $220,000, which the New Zealand Government Aid Programme will multiply x5.
Please prayerfully consider sending your gift for inclusive eye health services to help protect eyes, provide glasses, and fund surgical supplies used in cataract surgeries to help give the miracle of sight.
Because of extreme poverty, PNG has heart-breaking levels of people living with the double disadvantage of poverty and disabilities. More than 1-in-10 are living with a disability. PNG has some of the worst rates of blindness in the entire world!
Losing eyesight is absolutely devastating for anyone, but for Daka living in poverty, this is a double disadvantage.
30 years ago, Daka was a hardworking married mother of six, a pillar of her community and her church. Then her husband died.
Tradition dictated that Daka should move back to her home village with her children. But Daka resisted, knowing her village offered no livelihood for a widow. She stayed where she was… and worked. She grew vegetables and coffee beans to sell, while volunteering for her church mission to share the Gospel.
Daka was a tower of strength, who sacrificed so much to see her six children all complete their education.
Then Daka's sight began to fail. The lenses of her eyes began to cloud over.
As her cataracts thickened, she could only see movement. No detail. It became dangerous to grow her simple crops… or even to walk unaided on the bumpy, sloping tracks in the village.
Daka slowly became completely blind. Her every step had to be guided by someone else. She was utterly devastated to depend on others for absolutely everything – and her blindness was making their poverty even harder!
I am sure you can imagine what happened next… but it is not what you'd expect. Something deeply disappointing happened to Daka, on top of her blindness. It shows why generous gifts from people like you, to help give more miracles of sight, are so important in PNG.
At first, it seemed so positive. A cbm outreach worker came to Daka's remote village, bringing unbelievably good news for her. A cbm outreach clinic would be spending a week in the nearest town – Mingende – conducting eye healthcare, education, and surgeries made possible by generous people like you.
Daka was so excited. She could scarcely believe a friend she had never met – someone like you – would pay the cost of restoring her sight.
All Daka had to do was get to the clinic.
It would not be an easy trip, but Daka was determined to be there. She wanted to see her children again. She could barely remember their faces. She had been blind so long. She had never seen her grandchildren, she longed to see their beautiful faces.
Daka set out into the muddy jungle, led by her daughter. It was far harder and slower than they ever expected.
It took them so long to push through the mud and find the road, then spend three hours in a crowded uncomfortable bus.
By the time they finally reached the cbm outreach clinic – they received shocking news! The clinic was unable to wait for Daka any longer and had already moved on because others were waiting in the next town! Daka was so deeply disappointed. All her hopes were dashed.
A cbm outreach worker had left a message for Daka to come to the next town – Goroka – for her surgery. She was desperate to go, but it was another three hours by bus… and that was a ticket she could not afford. Nor could she bear to be that much of a burden to her family.
Daka had no choice but to put her miracle on hold… for an entire year!
Yes, a year! Sadly, that is why your support is so important. With your generous support, and the help of other cbm supporters, cbm could reach more towns with mobile clinics and stay for longer.
Many people like Daka need their sight protected, improved or restored. That is why your generosity is important, so our Government can multiply your donation x5 and treat more people. The need is so great.
Living with avoidable blindness for a whole extra year, Daka sat isolated and depressed at home. But she prayed every day for her miracle of sight to come.
Finally the cbm outreach clinic came to Mingende again. This time, she knew how long her muddy trek through the jungle would take. She was not going to miss out again!
This time Daka and her daughter reached the clinic, where they were happily welcomed by the outreach clinic staff. After a meal and a restless night's sleep, Daka was prepared for surgery the next day. The cbm-funded ophthalmologist successfully performed the cataract surgery on her first eye, with the second surgery a few days later.
When it was time for her eye patches to be removed, Daka was shaking with anticipation.
Alas! More disappointment! Daka could see light and colour, but no shape. She had been blind for so long, she had forgotten how to focus!
Focus, Daka, focus! She practiced and practiced – and her sight became clear!
Daka was overwhelmed with emotion, because right in front of her, she was seeing her daughter's face for the first time in years. Daka smiled through tears of joy.
She says that the miracle that kind people like you gave her – having her cataracts removed and her vision restored – is one of the greatest gifts she has ever received in her life!
It truly is a miracle and so many people in PNG like Daka need this miracle of sight too. And today, with the help of the New Zealand Government Aid Programme, your gift will be multiplied x5!
Your gift will be multiplied x5 for inclusive eye health services to help protect eyes, provide glasses, and fund surgical supplies used in cataract surgeries to help give the miracle of sight, or to help train future ophthalmologists from PNG.
You can become an Eye Champion for $35 a month, which becomes $175 a month, to help even more people like Daka receive vital inclusive eye health services to help give them the miracle of sight.
Please send your generous gift as soon as you can, because right now there are many precious people in PNG having to spend their days and nights in isolation, loneliness and blindness.
Thank you for being the kind of person who will join hands with someone like Daka and walk through any mud or hardship – so they can find new life through the miracle of sight.
Please help more people like Daka, by providing inclusive eye health services to help protect eyes, provide glasses, and fund surgical supplies used in cataract surgeries to give the miracle of sight. Your gift will be multiplied x5 by the New Zealand Government Aid Programme, for precious people like Daka in Papua New Guinea. Thank you for caring.