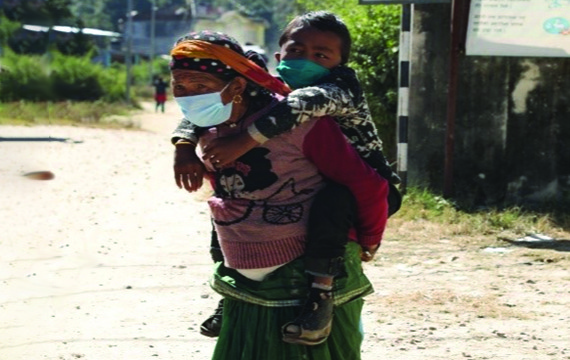 Abandoned at birth by his mother, and with an alcoholic father, 11-year-old Yam is fully reliant on his grandmother for his routine tasks and mobility due to his clubfoot.
Yam loved going to the local community school, an hour's walk away. Most days, his grandmother devotedly carried Yam on her back, to drop him off and pick him up again. Yam said, "I feel sad when my grandmother has lots of work, because then she is unable to carry me to school." But when the schools were closed due to COVID-19, he was isolated at home.
The social security allowance that he and his grandmother had been receiving was halted. For many, the household expenses were dependent on an allowance received from the government, but like others, they did not receive the allowance during the pandemic.
To help them with day to day necessities, a cbm-funded project team provided them with a basic assistance package, and that was a great relief for the family.
Yam's grandmother said, "The basic assistance package was a huge relief as there is no one to bring money home. The food package included rice, oil and salt. I usually eat buckwheat, and Yam loves rice. Along with food items, there were also hygiene products like towels, undergarments, a hair comb, toothbrushes, sanitizer and soap. These items were useful to us."
As a child, Yam has seen many barriers due to his disability and poverty, but thanks to generous cbm supporters, he received treatment at the Hospital and Rehabilitation for Disabled Children (HRDC) in Nepal. He also had regular follow ups at the hospital, however, due to the COVID-19 lockdown, he was unable to access regular rehabilitation.
Yam was very eager to pursue an education. When asked if he knows what COVID-19 is, he instantly replied, "It is a virus that has the ability to make us unhealthy."
With little or no access to education, health and basic essentials, the pandemic increased their vulnerability. Yam and his grandmother were both very grateful for the assistance they received through cbm.