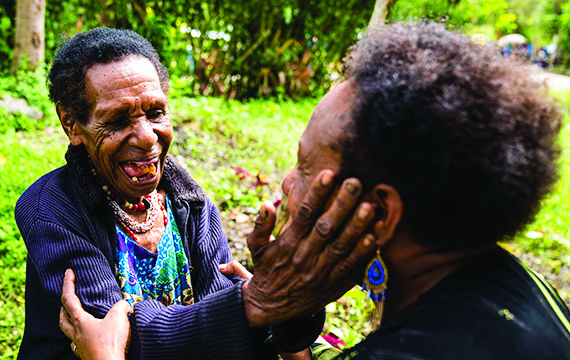 Barbra's pure joy!
In seeing her daughter's face for the first time in years. Please support cataract surgeries in Papua New Guinea so more people like Barbra can receive the miracle of sight!
"Weeping may be for a night, but joy comes in the morning." – Psalm 30:5
Yes, joy came in the morning for Barbra, as her surgical eye patch came off, and she saw her daughter's face for the first time in so many years. Before the joy though, poor Barbra had so much to weep about. I think you may be shocked to see how hard life has been for a blind widow trying to survive in the Highlands of Papua New Guinea.
Normally a sight-saving operation like Barbra's costs $35, but today the New Zealand Government will multiply your cataract gift times five. That means for every $35 surgery you fund, five people will receive sight-saving surgery!
What a remarkable opportunity this is to give sight to our near neighbours, living with avoidable blindness and poverty, in PNG.
Many years ago, as a happily married mum, Barbra was harvesting berries from her small patch of coffee bushes.
Unfortunately, a needle-sharp branch stabbed her right in the eye, causing irreversible damage. Barbra's long night of weeping had begun.
Living in New Zealand, if you hurt your eye as badly as Barbra, you would be fortunate to be able to rush to a well-equipped emergency room.
Barbra could not do that. She had never even heard there are such things as hospitals and doctors!
All she could do was suffer in pain, pouring river water over her injured eye. With no medical treatment, she just had to go back to work! The damage to her injured eye meant that it would be blind forever.
Trying to make the best of this difficult situation, Barbra bravely thought "one good eye is enough" but then, sadly, the sight in her good eye began to fail.
In a double blow, a cloudy cataract was starting to grow in Barbra's remaining eye.
As if Barbra's sight fading into total blindness wasn't devastating enough, more unexpected darkness was about to come upon her life in tragic ways.
Firstly, her devoted husband died, leaving her grief stricken and alone. How could Barbra possibly harvest and sell her crop of coffee and peanuts?
Then strangers came to the valley – violently burning Barbra's home. Sightless, she could not defend herself or her little farm.
Losing her sight, losing her husband, losing her income, losing her home – devastating.
Fortunately, Barbra was able to move in with other family members, including her loving daughter – but her blindness placed a strain on the family, making their struggle with hunger and poverty even harder.
Being so dependent on others, Barbra became isolated at home. She felt humiliated and guilty for the burden she unwillingly placed on the family – having to be led fifty metres to the pit toilet and needing help to wash herself in the river. She was unable to attend her church and this added to her misery and isolation.
My heart breaks to see a widow, made in God's image, living like this. All for the lack of a $35 eye operation!
But because of generous people like you, a cbm community outreach worker found Barbra! Their loving kindness brought hope to her when no one else in her family or community was able.
That day Barbra learned that a 12-minute operation could replace the cloudy cataract in her eye with a clear new lens – restoring her vision!
She was amazed. It sounded miraculous… but also very, very expensive. How could she ever afford this?
She need not have worried. She was told that her operation and expenses were going to be paid in full!
Barbra was overwhelmed to think that somebody she did not know, living in another country, would pay for her sight to be restored.
She was so excited and full of hope, but she had a long journey ahead.
Reaching the cbm outreach clinic was not easy. For 15 kilometres, Barbra's daughter led her by the hand, wading through large rivers, and occasionally slipping and falling on the steep, muddy track. After many hours, at last they reached the bus stop, for a long bumpy ride along a very dusty road.
Exhausted but still excited, Barbra and her daughter received a warm welcome from cbm clinic staff, a nice meal and a bed for the night.
The next day, Barbra met the first doctor she had ever seen in her life – a cbm ophthalmologist. Nervous at first, she was amazed how friendly and caring he was.
That afternoon, fully awake with a local anaesthetic, Barbra received life-changing cataract surgery. The cbm ophthalmologist removed her blinding cataract, replacing it with a new lens and then protecting her rapidly healing eye with a comfortable patch.
Waiting eagerly through the night, Barbra hardly dared to hope. There had been so many nights of weeping. Would joy come to her in the morning?
After so much tragedy, Barbra did not have to worry anymore. From the moment her bandage was removed, relief, then joy, then gratitude, flooded her heart.
Barbra could see again! Not dimly or through a haze. She could see clearly!
The first thing she saw was her daughter. She had not seen her beloved face in so many years.
A huge smile swept over Barbra's face, and she clapped her hands with joy.
"As soon as the bandage was removed, I knew the operation was a success," she said. "All the things I was going to do started flying through my head!"
Growing coffee! Tending her garden! Feeding her pigs! Going to church! Hugging her family! Earning an income! Barbra could hardly contain her joy! She honestly couldn't believe her vision could ever be restored. She had lost all hope and thought it was impossible to ever see again.
But thanks to people like you, no-one needed to lead Barbra back home that day. Thanks to people like you, she now has her life back. She left the outreach clinic with so much to look forward to – and is so grateful to God, that He would do such a wonderful thing through an unknown friend like you.
Barbra continues to give thanks to God for her sight – and prays for the miracle of sight to be gifted to others like her – people who have lost their independence, their livelihood, and their hope, all because they have lost their sight.
Please will you send a generous gift today to give the miracle of sight to others like Barbra – and also to continue training the cbm ophthalmologist and other staff at the cbm outreach clinic. They work so hard in the Highlands to restore the sight of precious people like Barbra.
Please send your gift today, or as soon as possible, while the Government's incredible offer will multiply your gift X5.
Send $35 for the surgery of one person like Barbra… and five people will be set free from blindness.
Your gift of $70 will be multiplied to $350! That is sight-saving surgery for ten people!
Do you want to give sight to 25 people today? $175, plus the X5, will do that.
That is a lot, I know – but do you realise how much it would cost in New Zealand to set 25 people free from cataracts? More than $100,000! You can do it for $175.
Any cataract surgery gift you send is so gratefully appreciated – especially by people like Barbra, the hard working team in PNG, and everyone at cbm. Please do send it today.
Blindness is causing so much weeping in Papua New Guinea. Please help turn that weeping into joy, for as many people in PNG as you can.
Thank you for your love and support, for blind widows like Barbra.
The New Zealand Government will multiply your gift for cataract surgery like Barbra's – five times! That means for every $35 operation you give, five people will have their sight restored! Our hard-working neighbours like Barbra need their sight for their very survival. Please send your gift today – you will turn much weeping into great joy.