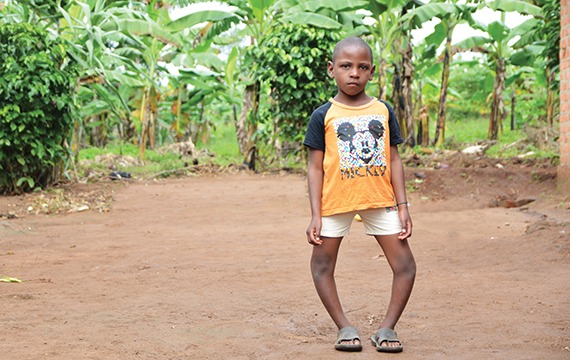 Angel has bowed legs and a broken heart.
You can help children like Angel fly, by sending your gift today.
"See that you do not despise one of these little ones. For I tell you that their angels in heaven always see the face of my Father." – Jesus, Matthew 18:10
Taunted and teased her whole life, Angel in Uganda has Blount's Disease causing her legs to bow just below her knees.
By helping to straighten the legs of children like Angel, you are saving them from a lifetime of pain and humiliation.
Angel deserves her name. This adorable 6-year-old girl is sweet-natured, loving and devoted to her family.
An Angel indeed, but she does not see herself that way. Her heart has been broken by taunts from other children, because her legs are so bowed. This is so sad, as every child is a blessing.
Angel's family lives with deep poverty and disability, as her father had already lost his eyesight – and with it almost any chance of making a living. He struggles to grow enough beans and maize to feed his wife and four young children. How can he ever pay for the specialised leg surgery his little Angel urgently needs?
It is through the generosity of cbm supporters, that the lives of children with disabilities like Angel can be transformed.
Justine, Angel's mother, noticed the first signs of Blount's Disease within a month of giving birth to her precious Angel. Baby Angel seemed perfectly healthy, but her little legs didn't look quite straight.
Village elders told Justine not to worry – "many babies' legs look bowed" – "you can't tell yet" – "bones firm up when babies walk." They tried to reassure Justine but she continued to be concerned because a mother just knows when something is not right.
Living in absolute poverty, what else could she do? Justine hoped for the best but soon, everyone in the village could see that Angel's legs were being bent further and further outwards as she grew. Eventually Angel managed to walk, but every step was painful for her. "Every day, Angel's joints hurt," says her worried mum.
Angel is a determined little girl. She tries to do what every other child can do, but when she runs or plays, she cries out in pain.
Across Africa, village children fetch water for their families. At six years old, most children would carry a five-litre jerry can to and from the water source. However, in Angel's case, even a three-litre jerry can is sometimes too much for this little girl. She tries, but she is slow and it hurts.
Her twin brothers often see Angel weeping. "She cries because she can't walk fast like us and because she is in pain."
Walking to school is just as slow and painful. Angel dreads school, where she is mercilessly teased by the other children.
"Pupils at her school abuse her," says Mum. "They call her 'bitege' – which means bowlegged. She hates to go there. It hurts to see what she is going through. I have tried my best to get her treatment… and failed."
Can you imagine that feeling of being completely powerless to protect your child from being hurt and humiliated, every single day?
Your gift will help find children like Angel who need help, and provide the funds, so they can get to hospital for treatment.
Every day her parents did all they could to try and help Angel but nothing could take away her pain. Eventually, they decided to go back to the hospital where Angel was born, for an x-ray.
"When the doctor looked at the images," said Angel's mother, "he told us to go to CoRSU for specialised treatment. I did not know anything about CoRSU at the time."
If only she knew! CoRSU is a cbm disability hospital funded through generous supporters like you. It was founded less than 20 years ago and is a wonderful facility for people with disabilities – especially children – right in the heart of Africa.
Angel's parents were excited to find out about CoRSU, but concern set in as it was a 200km bus ride from their home! "I had no money for transport," Angel's mother said. She was really quite devastated, because the doctor had told her Angel's future would be even more painful. "Her legs are going to get worse." Angel's knees and hips would become inflamed, causing a lifetime of pain from constant arthritis.
What could this desperate mother do? 200km felt like half a world away.
Actually, help was half a world away, in New Zealand – through the generosity of cbm supporters, families like Angel's can receive specialised care at the cbm-funded CoRSU hospital.
After years of pain and heartbreak for Angel, it is supporters like you that have brought hope and help to this little girl, by allowing community outreach workers to find children with disabilities.
And they found an Angel.
Her parents could hardly believe that someone like you would help fund specialised surgery for their daughter. What an incredible gift and blessing for this family.
Angel and Justine set out on a 200km bus journey to CoRSU hospital. They arrived exhausted but elated to be there. The little girl really had no idea what was in store for her, but like children in hospitals everywhere, the most fascinating thing was her name bracelet!
Angel's life and her future was about to change in a two-hour operation on her left leg. Her knee was so deformed, Dr Mwanje had to completely break and rebuild Angel's calf bone.
The difference was instant. Angel woke up in the hospital bed, and for the first time in her life… she had a straight leg!!
This happened because of the generous gifts cbm supporters keep giving for children with disabilities in the world's poorest places.
Angel will be sore for a while. She will need lots of physio, ongoing exercises and crutches while her bones heal. Then she will return to CoRSU so her second leg can be set straight.
Because of generous cbm supporters like you, Angel's future will now be strong and straight, just like her legs. No more taunting. Her heart will mend along with her legs. Angel, and her family, will never forget the love and support they have received.
Please will you prayerfully consider a gift to help children like Angel, because there are many more little angels still living with disabilities in the heart of Africa. There are many ways to help these little angels.
Send a gift so Outreach Clinics can search for and find children like Angel who need help and provide the funds, so they can get to hospital for treatment.
Donate to give children the gift of movement, through crutches, leg braces and walking frames, so they can join in and play with their friends.
Help fund Physiotherapy. You will teach children how to walk again!
Give a gift to help vital orthopaedic surgery to straighten limbs, so children like Angel are never again left behind or abused because of their disability.
Your loving kindness will transform the lives of children like Angel, even now as we globally deal with COVID-19. Thank you for considering a gift for children like Angel.
Bowed legs hurt! Because Angel's legs were so bowed, her future held only pain and sadness… but through your generous gift, you can straighten the bent legs of children like Angel and mend their broken hearts!
Today, please send a gift to give other little angels with disabilities their chance to fly. Thank you.