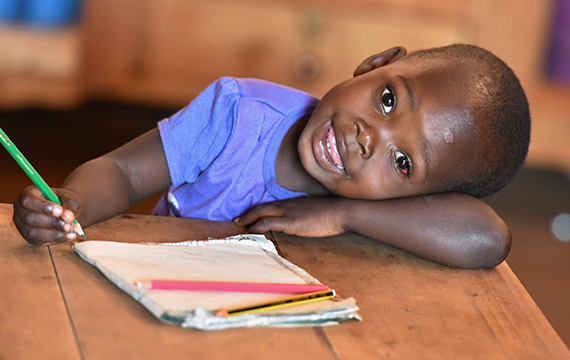 As the days have rolled into weeks in lockdown, I hope you and your loved ones are well. It is of great comfort to know the plan to fight COVID-19 seems to be working, and next week we will move to level 3. Although our daily lives may not change that much under level 3, it is a positive sign that we are moving in the right direction.
I'm sure you would agree with me that there are many new challenges to everyday life as a result of this pandemic. We have all had to adjust to a 'new normal' and restrictions on our everyday life may be in place for some time. But regardless of these challenges, I believe prayer and faith are necessary, especially in times like these, as it brings us closer to God. Today I invite you to pray with me:
"Again, truly I tell you that if two of you on earth agree about anything they ask for, it will be done for them by my Father in heaven. For where two or three gather in my name, there am I with them." – Matthew 18:19-20
Gracious God,
I pray for those who are lonely, anxious or grieving that they will find peace in their hearts at this time, for those facing financial pressures and who have lost jobs that new opportunities will open up for them; for all frontline workers to be protected as they go about their essential work; for wisdom and discernment in decision making for our national and local leaders, as well as for the medical profession; for those with compromised health and for the elderly, for healing and to safeguard their well-being; for parents of young children and teenagers as they balance the demands of home-schooling while working from home; for grace and peace within our bubbles and in our close relationships; for our own individual response to helping others where we can, and to help those who are vulnerable. With all that is within us, we gather in agreement now, and pray through Jesus Christ our Lord. Amen.
If you have specific prayer needs at this time, or you would like to share a scripture or testimony of God's faithfulness during lockdown, please email enquiries@cbmi.org.nz and with your permission I would like to include your prayer request, scripture or testimony with my team in our weekly devotions.
If you feel led to pray for cbm, please uphold cbm teams and field partners in prayer, as they work together to ensure people with disabilities are included in response efforts. Currently over one billion people are living with disabilities and they are disproportionately impacted during times of crisis and disaster. cbm would benefit from your prayers, as we work to ensure no one is left behind. Your prayers are vital support to cbm's work.
If you are already a cbm prayer partner, thank you for your faithful commitment to pray for cbm. It means so much to my team and I, knowing you are praying for us as we go about our daily duties.
If you would like to become a cbm Prayer Partner please email enquiries@cbmi.org.nz with your name and current address, and Hermie who you may have spoken to as she usually answers the cbm phone, will send you our daily Prayer Diary.
"The LORD bless you and keep you; The LORD make His face shine upon you, and be gracious to you; The LORD lift up His countenance upon you, and give you peace." – Numbers 6:24-26
Thank you for your continued support for people living with the double disadvantage of poverty and disability, especially at this difficult time. Your generous support is greatly appreciated and is transforming the lives of vulnerable people around the world.
Yours in Christ,
Murray Sheard
CEO, cbm New Zealand
P.S. Due to being in level 4 lockdown we have been unable to post you your receipt. However, your tax receipt has been produced, and will be sent to you via email (if you have asked for it to be sent this way), or by post over the next few days. Unfortunately as we are all still in lockdown, there may be some delays in the delivery of your receipt by NZ Post. My apologies for any inconvenience caused as a result of these delays.